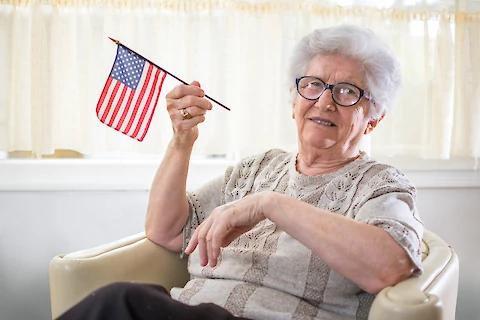 With the Fourth of July just around the corner, it's time to start planning for the festivities. While this holiday is a fantastic time to celebrate our nation's independence with family and friends, there are a few extra considerations to keep in mind when you're spending it with seniors.
From the loud bangs of fireworks that might be disruptive for those with dementia to managing political discussions, or even being mindful of health and diet restrictions, it's important to plan ahead to ensure everyone enjoys the celebrations.
Understanding the Challenges 
First, make sure you're aware of the potential challenges that may arise as you celebrate the Fourth of July with elderly loved ones. 
Firework Noise
If your elder family member suffers from dementia or has sensitive hearing, the loud noise of fireworks can cause discomfort or even agitation. 
Political Discussions
With the Fourth of July being a national celebration, it often stirs up conversations about politics. These discussions, while sometimes stimulating, can also become heated and lead to tension. In some circles, political celebrations can derail the festivities and leave everyone with a bad taste in their mouth. 
Dietary Concerns
Lastly, many seniors have specific dietary restrictions or health considerations that might limit their participation in traditional celebratory feasts or activities. In some areas, there may not be proper foods available to meet your loved one's needs. 
Tips for Celebrating July 4th With Seniors 
So, how do we navigate these challenges? If your loved one has dementia or is responsive to loud noises, consider watching a fireworks display on TV or investing in noise-cancelling headphones. Explain beforehand about the festivities to prepare them. If political discussions crop up, gently steer the conversation towards more neutral topics or fond memories from past celebrations. 
As for food, try to have a variety of options available that cater to everyone's needs. There are plenty of healthy, delicious alternatives for traditional dishes that everyone can enjoy. Don't forget to keep seniors hydrated during outdoor activities and ensure they're wearing appropriate clothing to protect against heat or sun exposure.
Activities Suitable for Seniors  
Planning activities that everyone can participate in is a great way to foster a sense of inclusion. Consider games that encourage reminiscing about the past, like looking through old photo albums or watching home videos. Light physical activities such as a gentle walk in the park or even bird watching can be delightful for seniors. Indoor activities like craft-making or singing patriotic songs can also keep everyone involved without being too strenuous.
Remember, the day is about celebrating together, so take things slow and focus on creating a comfortable environment for your elderly loved ones. Small gestures, such as providing a comfortable seat with a great view of the celebrations, can make all the difference.
Celebrating the Fourth of July with seniors can be a joyous and memorable occasion if we take the time to understand and cater to their needs. As we commemorate our nation's independence, let's not forget the rich experiences and wisdom our seniors bring to this shared legacy. 
Extra Help Caring for Senior Loved Ones on the Fourth and Beyond
If you need some extra help during the holidays, Senior Helpers Fort Myers Cape Coral is here for you. We're dedicated to providing top-quality care for seniors in Fort Myers, Cape Coral, Fort Myers Beach, North Fort Myers, and the surrounding areas. Don't hesitate to reach out to us! We would be honored to be a part of your family's celebrations, ensuring that everyone can enjoy the day to the fullest. 
Contact Senior Helpers Fort Myers Cape Coral today and let's create a memorable Fourth of July for your elderly loved ones!