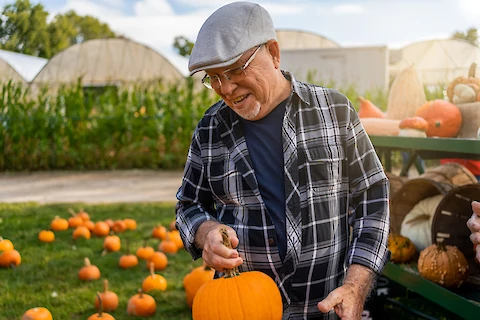 10 Fun Ways Seniors Can Prepare Their Homes for Autumn
Happy Autumn! This is the third season of the year; the weather becomes cooler, and the days also become shorter. This is a perfect time for our senior adults to ensure they are safe and well.
Below is a checklist to help our senior adults who reside in areas around Clearwater, Dunedin, Safety Harbor, Pinellas Park, Largo, and Clearwater beaches prepare their homes for the season.
Prepare Healthy Snacks
Loved ones living around Clearwater and Largo can take advantage of the many fruits and vegetables available during this season and prepare healthy snacks that could help them manage diabetes and promote heart health. Healthy snacks include beets, sweet potatoes, apples, and broccoli. The senior citizens can make snacks such as baked apple roses and no-bake pumpkin cheesecake, among others.
Work on a Fall-themed Jigsaw Puzzle
Senior citizens living on Clearwater beaches can work on a fall-themed jigsaw puzzle, such as wild birds gathering, which is a 35-piece puzzle with color coding designed for people with dementia.
Go for a Hay Ride
Our loved ones in Dunedin would enjoy a hay ride at different farms and festivals, which would take them through breathtaking autumn landscapes. The loved ones can take photos during the hay rides which would later turn into a scrapbook.
Pumpkin and Apple Picking
In Autumn, there are plenty of pumpkins and apples in Clearwater. The senior adults in areas such as Largo and Pinellas Park can go for pumpkin picking and apple picking during this season. Pumpkins can be used to prepare healthy snacks and even for decorations inside the house.
Decorate the House, Especially the Front Door
The loved ones in Safety Harbor have the option of setting up a scarecrow or carving a pumpkin to make Halloween decorations.
A Fall Soup Swap
Senior adults in Dunedin can make soup and meet their friends in the park for a soup swap, whereby they exchange their soups and try each other's soup. This can be a form of Friendsgiving which allows the loved ones to socialize.
Socialize
Senior adults can enjoy the company of each other by having activities such as Halloween costume parties, trivia nights, and autumn arts events. The seniors living in Safety Harbor and other areas around Clearwater can reach out to in-home senior caregivers in Clearwater who can give them companion care to avoid the feeling of isolation.
Bake a Pie
The loved ones around Clearwater and Largo can bake an apple and pumpkin pie, which makes a good and healthy dessert for them,
Pumpkin Painting, Inspired by Pinterest
Senior citizens in Pinellas Park should have gourds and pumpkins, then paint and decorate them. Senior citizens enjoy painting activities. The latest trend is painting pumpkins with wild colors such as pink, white, and teal.
Visit a Craft and/or Hobby Show
Our loved ones in Dunedin love art and attendance of shows revitalizes an old interest in them to make crafty things. 
Conclusion
Senior adults in Clearwater beaches should engage in some fun activities to stay active. Fun activities reduce the chances of senior citizens getting bored. At Senior Helpers Clearwater, we provide a comprehensive suite of programs and services that support aging-in-place. Are you living with your loved ones in Safety Harbor, Largo, Pinellas Park, Dunedin, Clearwater beaches, or Clearwater? Contact us for more information about our services.