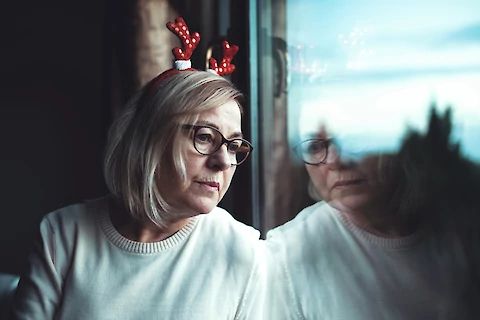 The holidays are a time of social excitement and lots of hustle and bustle. However, on the days after the seasonal festivities end, some people might struggle with how to fill their days.
Seniors who spend time connecting with family and friends during the holiday season might experience sadness or even depression due to the relative isolation that can set in. Should a senior find themselves in this position, Senior Helpers has some recommendations for combatting the loneliness in and around the Fort Collins, Englewood, Littleton, and Lone Tree areas. These recommendations include the following.
Understand That Some Sadness Is Normal
One important thing to remember is that those experiencing sadness during the post-holiday season are very normal. According to Psycom, post-holiday blues are very common in adults of all ages. Those who struggle with this form of seasonal depression might experience insomnia, irritability, anxiousness, low energy, and difficulty concentrating. If a senior starts to experience any of these symptoms, their healthcare provider should be contacted.
Reach Out to Friends
Even though the post-holiday blues and the feelings of isolation can be common, that doesn't mean they should be dealt with alone. After the bustle of the holiday season, seniors should still take time to connect with family and friends. In fact, if they are starting to feel isolated, it might benefit them to contact some friends who live close by and make plans to meet for coffee or tea.
Seniors can also get involved in community events such as library and museum activities. It doesn't have to be complicated. Sometimes, just getting out of the house for a little while will be enough to help senior adults feel that vital sense of connection once again.
Schedule Events with Family Ahead of Time
To avoid the gap of time between the end of the holidays and the start of the next special event, seniors should consider planning right now for visits and events. When they see relatives during the holiday season, they should go ahead and ask about possible visits in January and February. With such plans in place, seniors won't have to worry about feeling isolated after all the big festivities are over. Most family members and friends will welcome the opportunity to make plans in advance so that they can better prep their schedule!
Senior Helpers Provides Premier In-home Caregiving Services
Large gaps between social interactions can make any senior adult feel isolated or lonely. However, with a little bit of advance planning and a good understanding of what is common around the holiday season, they will be well-prepared to fill their calendar with lots of special moments with family and friends, through the holidays and beyond.

Senior Helpers thrives on helping senior adults forge meaningful moments through personalized in-home caregiving services. Contact us today to learn more about our premier services for seniors in Greeley, Wellington, Windsor, Estes Park, Longmont, and other surrounding areas.