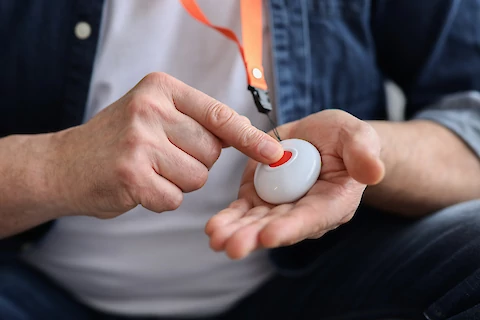 It's natural to be concerned about the health, safety, and well-being of a senior relative. Installing medical alert devices can provide peace of mind for family members and caregivers by helping them stay connected with their loved ones despite being at a distance. Still, you or your senior loved one might have concerns about these devices. In this article from Senior Helpers Fort Collins, we will discuss what medical alert devices are and weigh their pros and cons from the perspective of a family member or caregiver. 
What Are Medical Alert Devices?
Medical alert systems, or medical emergency response systems, are devices that allow people to call for help in the event of an emergency. They usually consist of a small device worn around the neck as a necklace or wristband. The device has a button that can be pressed to connect to an emergency call center 24 hours per day, 7 days per week. When the button is triggered, personnel from the call center will speak with you via your device and determine what type of assistance is needed and send first responders accordingly. 
Pros of Installing Medical Alert Devices
The most obvious advantage of having a medical alert device is being able to quickly call for help in an emergency. This enables seniors and their families to be more independent and have more peace of mind knowing that they are connected in the event of an unexpected health issue. 
Additionally, many modern devices now come with added features such as fall detection or GPS tracking capability so caregivers can keep updated on the whereabouts of their senior loved ones, giving them even greater peace of mind. The quick access to medical care is a great reason in and of itself to utilize a medical alert device.
Cons of Installing Medical Alert Devices
One of the drawbacks to installing medical alert devices for seniors is that some seniors may find them uncomfortable or intrusive. It can also be costly, as some monthly subscription fees can cost up to $50 a month (though many insurance companies will cover the costs). 
Also, if there's an interruption in service due to device malfunction or power outages, there won't be anyone available until service is restored. Some seniors could also feel uncomfortable with the installation process itself. They could feel intimidated by the number of steps required or be unsure about relying on technology for their 
Senior Helpers Provides Personalized Senior Care Services
In conclusion, medical alert devices can be a valuable tool for seniors and caregivers alike. The pros of having these devices generally outweigh the cons, as long as families make their decisions based on the individual needs of their senior loved one. 
Senior Helpers Fort Collins provides premium senior care solutions for seniors in and around the Fort Collins, Englewood, Littleton, Lone Tree, Loveland, Greeley, Wellington, Windsor, Estes Park, and Longmont areas. Contact us today to learn more about the services that we offer!