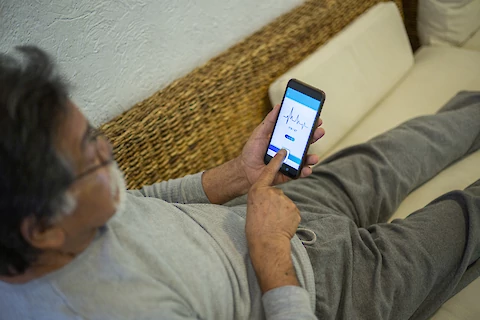 As technology advances, the need for healthcare services grows. Some seniors may find it challenging to keep up. Smartphone apps are an effective way to monitor your health from the comfort of your home. They provide valuable insights into what's affecting your overall well-being. Learning which apps are best and how they work can help.
Exercise Apps
There are tons of exercise apps available to use, depending on which device you own. MyFitnessPal should be available on any device. Sign up, and you can track calories, sleep, nutrition, and workout routines. It's free to use, but some features are available at an additional cost. 
Apple Health is a well-known health monitoring app for iOS devices that makes it easier for seniors to control their well-being. It lets you track steps taken, activity levels, and heart rate information within its built-in dashboard interface. You can also integrate health data from other third-party devices that link up, making it easier to control and monitor everything in one place.
Fitness Trackers
Fitness trackers are invaluable for those who prefer a more visible way to track their health. Generally speaking, fitness trackers are watches or wristbands that come with sensors. They keep tabs on steps taken, calories burned, and sleep data. Fitbit is one of the more popular brands in this area.
These devices can sync up with the respective companion apps to give you real-time updates on how much activity you've done throughout the day. You'll be able to see how your body responds to certain activities, like walking or running, and give yourself additional motivation when needed.
Health Monitoring Apps
FollowMyHealth is an excellent health monitoring app for seniors. It allows you to keep track of your vitals, records, and medication in one place. You'll see what information your doctor has included about your heart rate levels, current and former medications taken, blood pressure readings, weight, and more. 
This is just one possibility. Doctors in a single area may each utilize a different app to help their clients monitor their data. While one physician may use FollowMyHealth, another might prefer another option. Speak with your doctor about which app they use and allow them to help you set it up so you can start tracking your information as soon as possible.
Use These Details With Your Doctor
Using any of these apps can help you detect concerning changes in your overall level of health. Smartphone apps can track stress levels, sleep patterns, and energy levels, providing valuable insights into your body's condition. These apps can give you vital details to share with your doctor, providing insight on what needs medical attention before it becomes serious.
Contact Senior Helpers Fort Collins
If you're living in Englewood, Lone Tree, Fort Collins, Littleton, Loveland, Wellington, Greeley, Longmont, Windsor, or Estes Park and want to stay healthy as you age, consider the services provided by Senior Helpers Fort Collins. Smartphone apps are an invaluable tool for seniors to monitor health data and ensure their lifestyle is going right. Contact us today to learn how we can help keep you safe while utilizing these digital tools correctly.