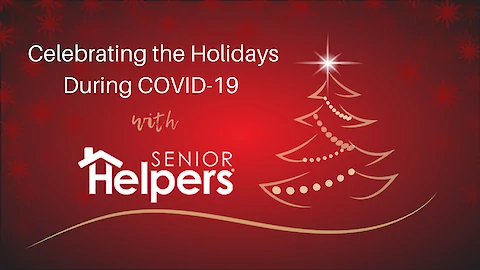 The holidays are a time of joyfulness and connection. However, when we are in charge of planning, holidays can also be stressful and anxiety ridden. Especially during COVID-19, the holiday season cause many emotions and fears to creep in.
If you have an older loved one that you usually spend holiday time with, you might not know exactly what to do this year. Because we love our family members, we want to cheer them up with holiday festivities. COVID brings up a new element of love, though. Since we do not want any harm to come to our loved ones, many of us are choosing to not spend the holidays with them.
Connecting with Older Family Members During the Holidays
Even if you choose to stay home this holiday season, you can still reach out to your loved ones. Regular phone calls can do more cheering up than you could ever imagine. Your loved ones will appreciate any contact in lieu of a visit this year.
If your loved ones are more advanced with technology, face-to-face meetings are even better than phone calls! Using platforms such as FaceTime (Apple phones), Facebook Messenger Video, Zoom, and Google Meet all serve the same purpose. Just find a platform that is easiest for your loved one and set up a meeting time.
Our caregivers at Senior Helpers would be happy to help your loved one navigate the world of technology if you are out of state. Just give us a call at (970) 658-8228 if you would like a caregiver to help with technology assistance.
Holiday Traditions
If your family is anything like my family, food plays a major part in your holiday traditions. The best way to send family members a taste of the holiday is to send the ingredients and a recipe instead of trying to send the baked goods that might go bad along the way. When your loved one gets this care package, they will be able to sanitize everything before cooking!
Other traditions might be conducive to video calls. Some games and activities are easy to incorporate into a video call and others are nearly impossible. Just be prepared with traditions you can do, and maybe create some new ones if they don't work out!
Encourage Loved Ones to be Healthy
This holiday season poses new threats to our older family members. Not only are the winter blues coming for us, but many older adults are also stuck in their isolated homes. Encourage these family members to stay active and healthy by exercising and eating well this holiday season.
Certain exercise studios, like chair yoga studios, have online classes to participate in. Others even have free classes to view on sites like YouTube. Here at Senior Helpers, we host a monthly "Wellness Week," where we give older adults tips to stay healthy during COVID. Tune into our Facebook Page to view past videos or watch our videos live on the second full week of each month.
Senior Helpers is Here to Help
If you or your loved one needs any assistance this holiday season, a caregiver is ready to help. Senior Helpers provides services from companionship to personal care. To reach someone at the office 24/7, call us at (970) 658-8228.