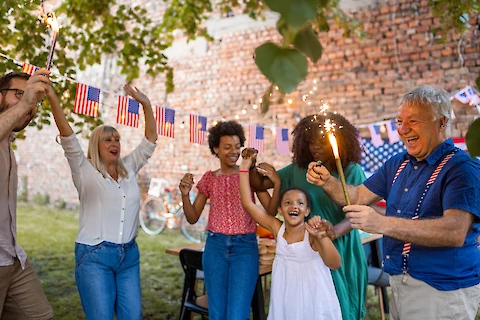 Independence Day, commonly known as July 4th, is a day of great celebration across the United States. It's a day when we come together to celebrate freedom, liberty, and everything that makes our nation special. However, not everyone can or wants to celebrate traditionally, such as parades, fireworks, or the classic American barbecue party. Some seniors, in particular, might prefer a quieter and safer celebration at home, away from the crowds and bustling traffic. If you're one of them, we've got you covered. Take a look at some of your options for celebrating the 4th of July from home. 
Ideas for At-Home July 4 Celebrations
Staying home doesn't mean sacrificing the festive spirit of Independence Day. There are many ways to celebrate and honor this day right from the comfort of your home.
1. Host Your Own Party
You could consider hosting a small gathering with your family or friends. It's always nostalgically pleasant to revisit the past and share stories about previous Fourth of Julys. You could even incorporate some patriotic games to make the gathering more fun!
2. Have a Movie Night
Another delightful idea is to organize a patriotic movie night featuring classic American films or documentaries. The movie night can also be coupled with a traditional American meal. You don't necessarily have to operate the grill; simple classic dishes like hot dogs, coleslaw, and apple pie can bring the holiday spirit to your dining room.
3. Get Creative
Exploring your creative side can also be an enchanting way to celebrate. Creating patriotic crafts or decorations gets you in the holiday mood and can serve as beautiful keepsakes. You can adorn your home with these crafts or gift them to your loved ones.
4. Enjoy Virtual Celebrations
If you enjoy technology, you can participate in virtual celebrations or watch televised fireworks. Many cities and organizations host online events, including concerts and historical lectures that you can enjoy from your cozy armchair.
The Advantages of Celebrating at Home
Celebrating July 4th at home comes with a host of advantages. First, there's a comfort element. You're in your familiar surroundings and can celebrate at your own pace. There's no need to worry about parking or weather as you would for an outdoor event.
Flexibility is another key benefit. You can design your day and activities according to your energy levels and preferences, making the celebration truly personalized.
While Independence Day is traditionally a social holiday, avoiding crowds can be a good thing too. You can enjoy the holiday without feeling overwhelmed. Plus, you steer clear of any traffic!
As you can see, celebrating Independence Day at home can be rich, meaningful, and replete with activities that reflect your personal preferences. This July 4th, consider choosing the option that suits you best, whether it be a quiet day of reminiscing or a lively family gathering!
Get Support Maintaining Your Independence
If you need any further support this Independence Day or any other day, remember that Senior Helpers Fort Collins is here for you. We serve seniors in and around Fort Collins, including Englewood, Littleton, Lone Tree,  Estes Park, and Longmont. From assisting with meals to providing companionship, we're committed to enriching the lives of our seniors. Get in touch with us today to learn more about our services.