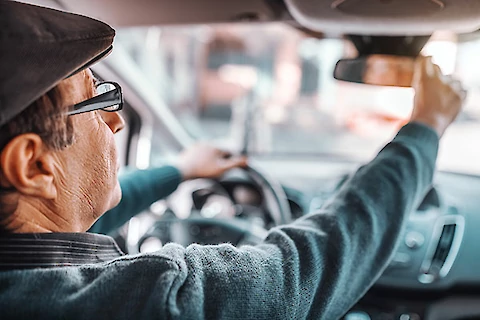 Safety Tips for Older Drivers
Drive at Your Best
As we age, driving can become a daunting task for many. It may be your time to step back from getting behind the wheel, or you might need some safety reminders and best practices to follow to make you feel comfortable once again. Below are some tips on what it takes to drive safely on the road for yourself and others.
Wear Seat Belts

Never forget to buckle up before you hit the road. A seat belt should never be uncomfortable to have on, so make sure to adjust the shoulder mount or buy a shoulder pad if needed.
 

Limit Distractions

Talking or texting on the phone can be very dangerous while driving. You should always be alert and aware of what is happening on the road. Other distractions include eating, drinking, and trying to find radio stations.
 

 Drive During Daylight

Older adults, even those with good vision, can experience visual problems at night, primarily due to lights from oncoming traffic. Try to drive in the daylight as much as possible because visibility will be better, and your mind will be sharper as well as your instincts. 
 

Avoid Bad Weather

Driving in the rain, snow, fog, or other hazardous conditions can create challenges. It's best to let the bad weather clear before hitting the road. If you MUST drive, here are a few items to keep in your car.

Extra food and water, warm clothing, a flashlight, a glass scraper, blankets, and medications.
Make sure your tires are properly inflated and have plenty of tread.
Keep at least half a tank of fuel in your vehicle at all times.
 

Be Aware of Medications

Certain medications can make you feel drowsy, dizzy, or less alert. It is essential to speak with your doctor about your current medications and their side effects. Having this information will help you determine whether it is safe to drive or if you need to take precautions.
 

Meet with a Driving Rehabilitation Specialist

Some professionals can assess and evaluate older drivers and their current habits. These specialists will look at muscle strength, flexibility, coordination, reaction time, decision-making skills, and more.
Senior Helpers of Seal Beach, Los Alamitos offers transitional care to help a loved one return to normal while in recovery. This includes providing accessible transportation. In recovery, we know it is important to have regular visits to the doctor's office. Senior Helpers can provide transportation to and from any doctor visit. Anywhere your loved one needs to go, we have them covered. Click here to learn more about our Transitional Care Services.