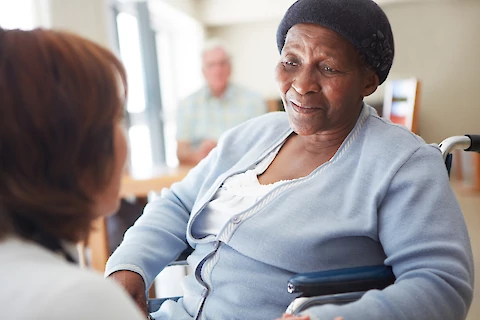 As an increasing number of elderly Black citizens enter retirement homes, the reality of preexisting inequalities begins to manifest in daily life. In many cases, the same racial disparities and challenges often present in other areas of their lives can become even more pronounced when they transition to retirement communities.
While not all patients will have similar experiences in a retirement community, many elderly Black patients will find themselves facing the same general issues. 
Isolation
Elderly Black patients can feel isolated when relocating to retirement communities. Retirement homes are often populated with people who come from different backgrounds, ages, and cultural beliefs. Unfortunately, in many areas, that may mean people who do not have the same background as Black residents. If there is a lack of diversity in residents or staff members within the nursing home, it can lead to intense feelings of isolation for some Black patients. 
Discrimination
Discrimination within retirement communities remains a common problem for elderly Black patients. This discrimination arises from a basic misunderstanding about different cultures and beliefs but also due to existing systemic racism present in many physical settings like neighborhoods, healthcare offices, and nursing homes. 
Lack of Access to Resources
Many elders experience difficulty accessing resources that they need, such as adequate healthcare services, physical or mental healthcare services, nutrition information, or other pertinent advice like financial advice geared toward seniors on fixed incomes. Unfortunately, access to that information is often far more limited within minority communities. 
Limited Access to Physical/Mental Health Services
In many communities, Black patients struggle to get full access to the physical and mental health resources they need. The community may also have a stigma against mental health services, which can make it more difficult for Black patients to access them. 
How to Help Black Patients Face Challenges
The best way to help elderly Black patients facing challenges in retirement communities is to learn more about what those challenges are and be prepared to address them. 
Advocate: The first step in helping elderly Black patients transition into the environment of the nursing home is advocating for them. This can involve speaking on their behalf within the community or pushing for access to services such as physical therapy or mental health counseling not typically provided by nursing homes. 
Look Into Available Resources: Researching what resources are available for seniors can be time-consuming and difficult, but it's an essential part of bringing needed services and opportunities to elderly Black people living at a nursing home. By taking advantage of local, state, and federal offerings, you may be able to bring additional resources that make life easier and more enjoyable for those transitioning out of independent living environments.  
Invest In One-On-One Care Providers: In many cases, working with a personal care provider can make life easier and less isolating for elderly Black patients even after they transition to a senior living community. By bringing in a personal caregiver, you can feel much more confident that your loved one is receiving the high standard of care they need. 
Private Senior Care Can Help
At Senior Helpers Seal Beach, Los Alamitos, we provide private senior care for seniors in Cypress, Los Alamitos, Seal Beach, Long Beach, and Hawaiian Gardens. Our caregivers can offer support that can help elderly Black patients live at home longer or offer support as part of a larger care plan, including sitting with elderly Black patients in senior living communities. Contact us today to learn more.