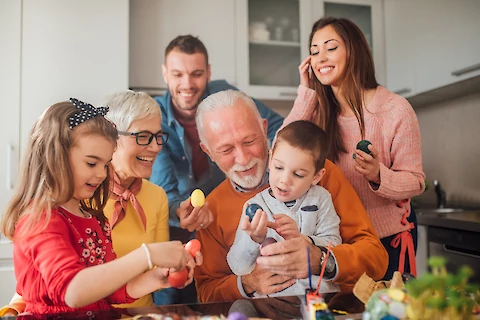 Make Easter a truly joyful and memorable holiday with your whole family by planning activities that everyone can enjoy together. No matter their age, every family member should get to experience the fun of Easter together. From kids to seniors, there are plenty of activities in which everyone can participate. Read on for some great ideas for Easter activities for all generations!
The Benefits of Multi-Generational Activities During the Easter Holiday
By taking part in activities together, seniors can stay connected with their community and family members. This will help reduce stress and anxiety and promote a sense of well-being. Although some activities may be age-restricted, there are still plenty of possibilities for everyone to get involved. Participating in activities together will encourage people to stay socially active and boost their overall mental health. Furthermore, participating in activities together can create a deeper sense of connection across the generations. 
Ideas for Easter Activities for All Generations
Ready to get started? Here are several great activities to consider putting on the schedule this year. 
1. Easter Egg Hunt
Easter egg hunts are a great way for little ones and seniors alike to join in the fun. Whether seniors are helping to hide the eggs or joining in the hunt, an Easter egg hunt is a great way to get everyone moving and playing together. 
2. Easter Bake-Off
This can be a creative activity that all family members can get involved in. Everyone can have a go at baking and decorating their own Easter treats, with seniors helping out kids with the more tricky parts! Every member of the family can make their own fun Easter dessert or contribute a side dish to the Easter meal, then vote on their favorites.
3. Easter Crafts
Get creative and make arts and crafts together. From painting and drawing to clay, crochet, and more, Easter crafts provide a great platform for family members to bond over and create some keepsakes. 
4. Easter Card Making
This is a fun activity that the whole family can take part in. Everyone can create their own special card for each other, adding a personal touch to this traditional Easter activity. 
5. Easter Parade
Get dressed up and show off your finery in a fun Easter parade! Encourage every member of the family to line up and parade around. If you can't get together in person, you can also put together a virtual parade and share pictures of your outfits online.
6. Scavenger Hunt
This is a great way to get everyone up and about. Kids and seniors can join forces to complete the challenge and have a blast while doing it! 
7. Basket Decorating
Everyone can have a go at making their own Easter baskets in a way that works for them. Whether it's painting, cutting out shapes, or sticking feathers, this activity is sure to put smiles on everyone's faces. 
8. Movie Night
Finally, why not end the day with a family movie night? Pop some popcorn and watch a classic Easter film to wrap up the day. 
Stuff a Basket With Help for a Senior Loved One This Easter
No matter what activity you choose to do, Easter is a great time to have fun with family and friends! Are you looking for a special Easter gift for a senior family member? Consider the benefits of in-home senior care services and how they can help your loved one.  If you are in San Rafael, Belvedere Tiburon, Marin County, Mill Valley, or Sausalito, feel free to contact us at Senior Helpers Marin County. Our caregivers can help set your loved one up for fun this Easter or provide assistance in their home long after the holiday is over.