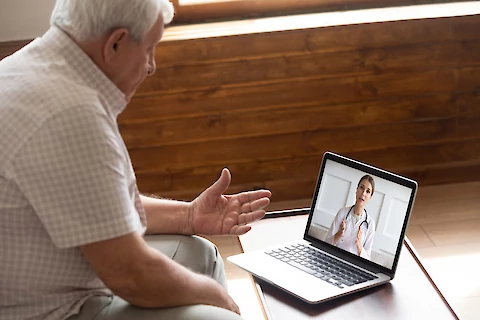 Which Telehealth Services Are Best For Seniors?
The pandemic changed the way people live, work, and learn.  This is particularly the case with healthcare. Telehealth services have not replaced in-person healthcare, but they do enhance it. Not only that, but telehealth services have also enabled people to have access to care they may not have had access to before. For seniors living in Napa, St. Helena, American Canyon, or Fairfield, getting to the doctor might be a challenge. The good news is Senior Helpers in Napa is here for you.
What Are Telehealth Services?
Telehealth services include online or over-the-phone consultations, check-ins, education, and mental health services. While tests, treatments, and diagnostics must still be done in person, telehealth services can help care providers provide support, education, monitoring, and preliminary care for people who need it.
How Do Seniors Benefit From Telehealth Services?
Telehealth services are ideal for people who might otherwise have difficulty getting to doctor appointments. For example, seniors who have limited access to transportation or who have health issues such as limited mobility, or who have immune issues.
While those are some practical reasons to choose telehealth care for seniors, there are other reasons. It's often easier to get a phone appointment or an online appointment. Virtual appointments allow providers to see and hear how their patients are doing and provide an extra layer of support between other appointments. 
What Are Some Of The Best Telehealth Services For Seniors?
Consultations
A virtual consultation is ideal for seniors who don't want to wait for an in-person appointment, or who may have difficulty coming in for an appointment. The virtual appointment allows the patient to voice their concerns while it allows the medical professional the opportunity to see and hear the patient, ask questions, and gather pertinent information so they can decide on the next steps.
Education
Virtual health education for seniors allows them to ask questions, gather information, and be involved in their healthcare from the comfort of their own homes. For example, nutrition classes, fall prevention, and things like guided meditations or information on vaccines or other preventative healthcare are so important and not always accessible.
Lab Results
Lab results aren't usually something that one gets an appointment for, but for elderly persons living at home who may have questions, a telehealth appointment to go over lab results and discuss things like managing chronic illness is beneficial. 
Health Monitoring
Telehealth virtual appointments allow medical providers to monitor seniors without them coming to the office. This is especially ideal for seniors who have difficulty making it to follow-up appointments or who are immune compromised. For Napa seniors who are no longer driving, telehealth is incredibly helpful.
Senior Home Care In The Napa Valley
Whether you live in Napa, St. Helena, Sonoma, or American Canyon, Senior Helpers is ready to help you. If you or your senior loved one is having trouble getting to doctor appointments or remembering to take medications, Senior Helpers in Napa may be the answer you have been looking for. Our services not only provide transportation to and from doctor's appointments, but also help with shopping, medication reminders, or light housekeeping. Give us a call today to learn how Senior Helpers can help you.