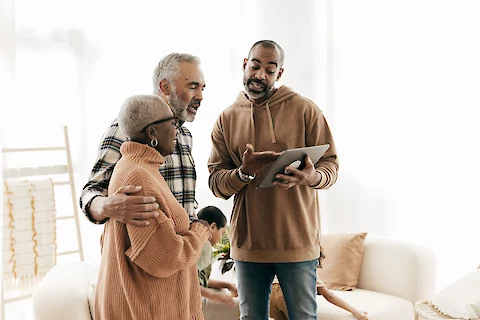 Caring for multiple senior family members can be a complicated job. There are unique challenges you'll be facing by attempting to balance the needs of multiple members of your family. With some careful planning and firm boundaries, you can make the most of your experiences as a family caregiver.
The Challenges Of Caring For Multiple Senior Loved Ones
It can be physically, emotionally, and mentally taxing to take care of multiple senior family members. This can range from providing financial support to attending doctor's appointments. It can include helping with daily activities such as grocery shopping and bathing.
Depending on their level of required care, the needs of your senior loved ones can be complex and require an extensive amount of time, resources, and energy. It's important to recognize that over-extending yourself and neglecting your own needs can lead to a number of health complications. 
Establishing Clear Boundaries 
When it comes to managing care for the senior relatives in your life, it's important to establish and maintain clear boundaries. Discussing expectations with other family members can help to alleviate misunderstandings. It can also ensure that all necessary responsibilities are taken care of. Come to an agreement about who will do what, when, and why. Remember to be realistic about what is possible for each individual.
Setting Limits On Time And Resources 
As a family caregiver, it's important to be conscientious of your own needs and remember to say 'no' when necessary. This means setting limits on the amount of time and resources you are willing to dedicate to the care of your senior family members. Consider what your own health, safety, and overall well-being look like, and use this as your baseline. 
Respecting Individual Needs And Preferences 
Respecting the individual needs and preferences of each senior loved one is key to providing adequate care. Seniors often want to maintain as much independence as possible. It's important to allow them to make decisions for themselves and voice their opinions.
Ensuring Each Senior Loved One Receives Abundant Care 
You want to make sure that each senior parent is receiving the appropriate level of care and attention. Make sure everyone is getting the medical attention they need, as well as the support and companionship they desire.
Strategies For Managing Stress 
You need time to manage your stress levels. Practice stress-relieving techniques such as meditation, exercise, and deep breathing. Do things that make you happy, such as reading a book or listening to music. If possible, try to find time to connect with friends and family, or even take a vacation. Some other things to consider include:
You can't care for anyone if you haven't taken care of yourself. Make sure to get enough rest, exercise, and nutrition. You also need to take time for yourself. Look for ways to stay involved in activities and hobbies that are meaningful to you. 
Seeking Professional Help 
If you're feeling overwhelmed and unable to manage the needs of multiple senior family members, there is help available. Consider seeking professional assistance from an in-home senior care company such as Senior Helpers Napa. They provide a range of services to support you and your loved ones. Additionally, you may consider finding a support group or therapist to help you to cope with the stress and challenges of caring for multiple family members. 
Find A Partner To Care For Your Senior Relatives With Senior Helpers Napa
It's a big responsibility to care for one senior loved one. When you have to care for more than one senior relative in Napa, Sonoma, American Canyon, St. Helena, or Fairfield, it can feel impossible. Senior Helpers Napa provides the helping hand you need with daily activities. Contact us now!