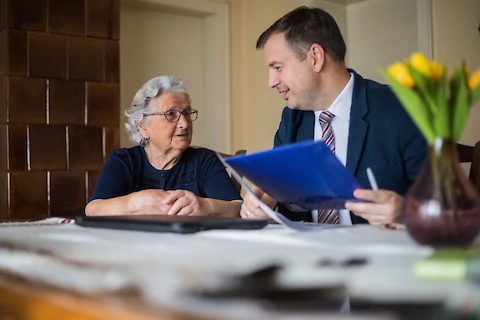 As the aging population grows, so does the number of family caregivers who shoulder the responsibility of managing their elderly loved ones' finances. This critical task can seem intimidating given its complexity and the high stakes involved.
To help navigate this challenging terrain, we've crafted a resourceful guide that targets vital aspects of financial planning for seniors. We'll explore practical budgeting tips, demystify Medicare benefits, and shed light on the nitty-gritty of estate planning. We'll also examine potential tax deductions caregivers can benefit from and underscore the value of professional guidance in this sphere.
While these insights can direct and inform, remember that they don't substitute for professional, tailored advice from legal or financial experts. We're just here to give you the confidence you need to get started!
Budget for Elders
Proper financial planning begins with understanding and managing a budget. Accurately account for your elders' income sources and recurring expenses, such as housing costs, utilities, groceries, and medications. As caregivers, vigilance in ensuring these expenses align with the available income is crucial to avoid financial strain.
Understand Medical Costs and Medicare Benefits
Medical costs often constitute a large portion of a senior's budget. Familiarize yourself with the specifics of their Medicare benefits. This will help you to anticipate out-of-pocket costs, including deductibles, copayments, and prescription medications. Understanding these expenses aids in accurate budgeting and ensures your loved ones can access necessary care without fear of financial insurmountability.
Get Involved in Estate Planning
An essential—albeit sensitive—part of elder financial management is estate planning. Collaborate with your loved one to draft a will, designate powers of attorney, and clarify health care directives. These documents ensure their wishes are followed and potential legal complications are mitigated. It's best to seek professional legal advice in this process to ensure all bases are covered.
Explore Long-Term Care Options
Long-term care options, like assisted living or in-home care, are often inevitable in senior care. Start exploring these possibilities early, considering factors like costs, quality of care, and proximity to family. Understanding these factors helps create a viable plan that aligns with their preferences and financial capability.
Find Tax Deductions for Caregivers
Caregivers often overlook potential tax benefits. The IRS allows deductions for medical expenses you pay for a parent or other qualifying relative, easing some financial burden. Remember to consult a tax professional to understand fully and claim these deductions.
Seek Professional Guidance
You don't have to deal with complicated finances alone. Engage a financial advisor specializing in elder finance for professional oversight. They can offer valuable advice, navigate tax intricacies, help explore long-term care funding options, and assist in estate planning.
Plan Ahead With Senior Helpers
Navigating financial planning for elders is a significant responsibility that demands a comprehensive understanding of several aspects—from budgeting to estate planning. Although these strategies can serve as a starting point, they are not a substitute for professional advice. 
As you plan for your senior loved one's future, consider the benefits of quality in-home caregiving professionals. Residents in Napa, Sonoma, American Canyon, St. Helena, and Fairfield can count on Senior Helpers Napa as a resource. Contact us today to learn about our services, from friendly drop-in companionship visits to specialized respite dementia care. In-home care can be a cost-effective alternative to institutional care, and we're here to give seniors and their loved ones peace of mind.