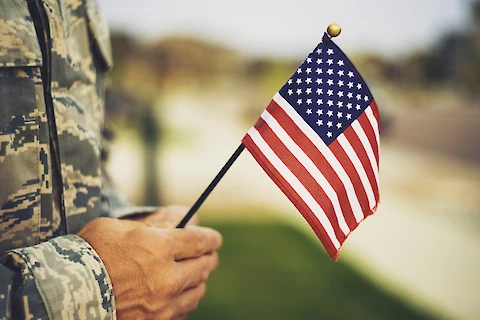 Memorial Day is special for many seniors, providing a meaningful opportunity to honor and remember the brave individuals who have served our country. It's an occasion for reflection and celebration, and there's no better way to get involved than by participating in local events and programs.
Let's explore some fantastic volunteer and tribute ideas for celebrating this Memorial Day.
Volunteer and Tribute Opportunities for Seniors
Seniors in the community can play a significant role in organizing and participating in Memorial Day events. Here are some local volunteer ideas to consider this year:
Organize a Parade
One great way to contribute is to assist with organizing and setting up local Memorial Day parades. Seniors can help in planning the parade route, coordinating participants, as well as managing logistics. To start, contact local veterans' organizations to collaborate and ensure a memorable event.
Volunteer With Veterans
Spending time with veterans and their families, lending a listening ear, and sharing stories can bring so much joy and comfort. Additionally, seniors could organize activities and events for residents to enjoy, making a real difference in their lives.
Support the Local VA
Offering administrative assistance, helping with fundraising efforts, or participating in flag ceremonies and wreath-laying events can significantly benefit these organizations.
Participate in Local Ceremonies
By working with local government and community organizations, seniors can also ensure a smooth and poignant event that honors the memory of those who have served.
Create a Display
Creating and displaying a Memorial Day tribute in the neighborhood is also a fantastic way to honor local veterans. Seniors can gather photos and stories of these brave individuals and collaborate with local schools and community centers to create a heartfelt display. This tribute will serve as a visual representation of the community's gratitude and admiration for those who have served.
Hold a Moment of Silence
Coordinate with local churches and community organizations to ensure everyone knows when to pause and reflect. Seniors can create a powerful and unified tribute to our fallen heroes by encouraging participation through social media and local news outlets.
Host a Neighborhood Potluck
Hosting a neighborhood potluck or picnic to honor veterans is a more casual but equally significant way to pay tribute. This gathering allows the community to unite and express their appreciation for those who have served. Invite local veterans and their families to attend, and organize games and activities for all ages.
Hold a Flag Raising Ceremony
Seniors can work with local veterans' organizations and government offices to organize this event. They can also invite community members to participate and pay their respects. A flag-raising ceremony is a beautiful and solemn way to honor our fallen heroes.
Senior Helpers Supports Veterans on Memorial Day and Every Day
If you're interested in even more volunteer opportunities, contact local veterans' organizations or connect with other seniors through local senior centers and online forums. Staying informed about local Memorial Day events and programs through local news outlets as well as social media will help you find the best fit for your volunteer efforts.
Seniors play an essential role in honoring and celebrating Memorial Day. By volunteering and participating in community tributes, they can make a significant impact on others around them.
If you or a senior loved one living in Napa, Sonoma, American Canyon, St. Helena, or Fairfield are interested in volunteering or participating in local Memorial Day events, contact Senior Helpers Napa for more information and support. Let's make this Memorial Day a truly memorable one for everyone involved.