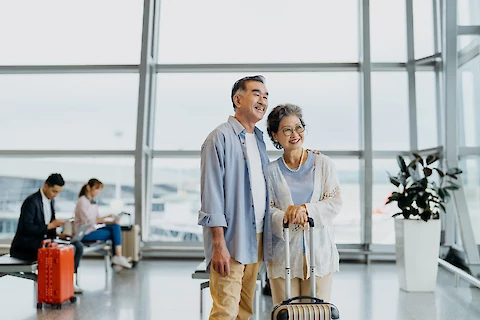 How Travel Insurance Policies Protect Seniors While Traveling Abroad
Travel insurance is essential for any person traveling abroad. Seniors might find travel insurance even more significant in a trip due to their safety and medical requirement. For most seniors, concerns about their safety and luggage may make them reduce the number of trips abroad.
However, such issues should not deny them the joy of traveling in their golden years. With travel insurance, seniors can plan and visit their favorite destinations with the confidence that someone has them covered in case of a medical emergency, trip cancellation, or loss of luggage.  
Benefits of Travel Insurance 
Travel insurance is an essential component of a trip. It helps the traveler to get a cover over unforeseen circumstances during the trip. Some of the benefits of getting one before traveling abroad include:
Medical Insurance Coverage 
Seniors under Medicare or insurance policies that only cover medical expenses in a particular place need travel medical insurance. These cover medical expenses that may arise during a trip to a country that does not accept Medicare.
Emergency Medical Evacuation
Travel insurance covers emergency medical evacuation for seniors who travel to remote areas. Emergency medical evacuation cover ambulance fees or other forms of transport to the nearest medical facility. 
Trip Cancellation
Travel insurance that covers trip cancellation allows seniors to recover money lost in pre-paid, non-refundable deposits for trips canceled due to reasons contained in the policy. Seniors should study the policy to understand trip cancellation reasons that will help them recover their money.   
Trip Interruption
Some trip interruptions may require the seniors to end their vacation before time. Trip interruption insurance covers the emergency home air ticket as well as other issues included in the policy. 
Loss of Baggage and Personal Effects 
Some insurance policies also cover lost bags and personal items during a trip abroad. 
How Does it Protect Seniors? 
Travel medical insurance helps meet the cost of treatment in hospitals outside the country. Most countries will not accept Medicare or local insurance. If they make out-of-pocket payments, the insurer makes reimbursements. Seniors traveling abroad should look for a policy with high travel medical insurance. 
Seniors who get sick in areas with no medical facilities benefit from airlifting plans or ambulance services from their emergency medical evacuation insurance. The evacuation protects the seniors from developing complications before they reach a medical facility. Seniors traveling to remote areas should get a policy offering high medical emergency evacuation insurance.  
Seniors may cancel a trip for medical reasons or other engagements. Trip cancellation insurance protects seniors from financial losses from non-refundable deposits. Seniors who frequently cancel their trips should opt for a policy with a cancel for any reason option. 
Other insurance policies, such as luggage loss/delays and trip interruptions, protect seniors from unnecessary mental anguish caused by lost items. 
Do You Need Assistance from an In-Home Senior Caregiver?
Traveling abroad requires planning, getting travel insurance, and helping the seniors prepare for the trip. An in-home senior caregiver from Senior Helpers Concord CA can help your loved one prepare for the trip, including packing personal effects. If you are in Concord and Pleasant Hill, Benicia, Brentwood, and Martinez, contact us today for in-home care services for seniors.