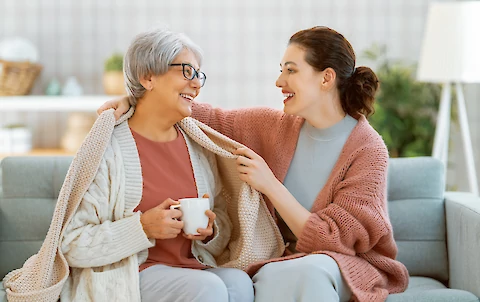 Flu season typically runs from October to May in the United States. The fact that seniors are more likely to have chronic health conditions that can complicate the flu makes it important for seniors to take extra precautions during this time. That's why the CDC advises that everyone (except babies below 6 months) should get a flu shot each year.
But even if seniors do get the flu shot, there are still other things they should keep in their homes during the flu season. They include:
1. Medications or Treatments for the Flu
One of the best things seniors can do to protect themselves is to keep their medicine cabinet stocked with flu-fighting medications. Some of the medicines they should have on hand are:
Acetaminophen or ibuprofen for fever and pain relief
Antihistamines for sneezing, runny nose, and itchy eyes
Decongestants for stuffy nose
Cough syrup or lozenges for cough
Of course, it's always a good idea to talk to a doctor or pharmacist before taking any medicine, especially when taking other medications. And seniors should be sure to follow the directions on the label and their doctor's instructions.
2. Supplies to Help you Stay Comfortable
When it comes to staying comfortable during a bout of the flu, seniors have a few extra considerations to take into account. Here are a few supplies that can help make things a little easier:
A humidifier: A humidifier can help to keep the air in the home moist, which can help relieve congestion and make it easier to breathe.
A comfortable chair: When not feeling well, the last thing one wants is to be stuck in an uncomfortable chair. Seniors should have a comfortable place to relax that can help them feel as comfortable as possible.
Soft, comfortable clothing: Wearing clothing that is soft and comfortable can help one feel more comfortable when not feeling well. They should also avoid anything tight or constricting.
These are just a few of the supplies that can help make things a little easier when dealing with the flu. Seniors should remember to take things easy and give themselves time to recover.
3. Staple Groceries 
When seniors get the flu, it's important to eat healthy foods that can help them feel better and give their immune system a boost. Here are some groceries seniors should buy when they have the flu:
Chicken soup: This soup has been shown to help treat the flu. It's packed with nutrients and can help to keep them hydrated.
Garlic: It has antiviral and antibacterial properties and can help fight off the flu virus.
Honey: It can help to soothe a sore throat and calm a cough.
Lemons: They are high in Vitamin C and can help boost the immune system.
Oatmeal: It is a great source of energy and can help to settle the stomach when feeling nauseous.
Green tea: It's packed with antioxidants and can help fight off the flu virus.
Yogurt: It contains probiotics which can help to boost the immune system.
Seniors should make sure to eat plenty of fruits, vegetables, and whole grains. These foods are packed with vitamins, minerals, and antioxidants that can help keep their immune system strong. In addition to eating a healthy diet, seniors should also make sure to stay hydrated. Drinking plenty of fluids helps to keep the body healthy and supports the immune system to function correctly.
4. Fun Supplies and Distractions so They Minimize Time Spent Out in Public
Seniors may not go out as much as they used to, and they may not have as many friends or family members nearby. However, that doesn't mean they can't still have fun! There are plenty of things seniors can do at home to stay entertained and minimize time spent out in the public.
One thing seniors can do at home is play games. There are all sorts of games that can be enjoyed alone or with others. Card games, board games, and puzzles are all great options. These games can help keep their minds sharp and provide some social interaction, even if it is just with family members.
Another option for things seniors can do at home is to watch movies or television. There are so many great shows and movies available now, and with streaming services, it's easy to find something to watch. This can be a great way to relax and escape from the everyday hustle and bustle.
Finally, one of the best things seniors can do at home is simply read. Books can take them to new places, introduce them to new people, and teach them new things. They can also be a great source of entertainment and knowledge.
Get the Help You Need from an In-Home Senior Caregiver
While it is always best to avoid getting sick, sometimes it's unavoidable. When seniors do get the flu, in-home senior care can be a great option to help them recover.
There are many advantages of in-home senior care services when seniors have the flu. First, seniors can receive the one-on-one care they need to recover. This is especially important for seniors who have chronic health conditions that make the flu more dangerous.
In-home care can also help seniors with the activities of daily living that become more difficult when they're sick. For example, seniors may need help with cooking, cleaning, and personal care. In-home care can provide this assistance and help seniors stay comfortable and safe while they recover.
Finally, in-home care can provide peace of mind for both seniors and their loved ones. When seniors are sick, their loved ones may worry about them being alone. In-home care can help ease these worries by providing regular check-ins and updates on the senior's condition.
If you're a senior or a loved one of a senior living in Concord, CA, the services of Senior Helpers will come in handy. We are a leading provider of in-home senior care services in Concord, Pleasant Hill, Benicia, Brentwood, and Martinez.
Contact us so we can discuss your needs and how our personalized in-home care services can benefit you or your senior loved one.