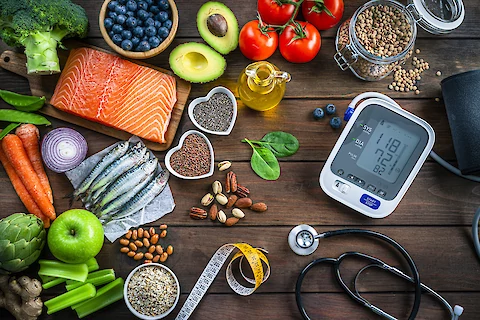 As we age, it's more important than ever to make sure our diet remains heart-focused. Hypertension (high blood pressure) can be dangerous for people over the age of 65. Fortunately, with the right dietary changes, you can reduce your risk of hypertension and ensure optimal health for years to come. At Senior Helpers Tempe, our team of in-home senior care professionals is here to help you navigate the ins and outs of a senior-friendly diet. Today, we're discussing the best foods to combat hypertension and provide you with easy recipes you can master in no time. Let's get started!
Best Foods to Fight Hypertension
When it comes to hypertension prevention, certain foods can be beneficial and others can be detrimental. Generally speaking, it's best to focus on a diet high in fruits, vegetables, and whole grains. In addition, the following foods can be especially beneficial for those with hypertension: 
Avocado 
Garlic 
Fruits, like bananas and citrus choices
Oats 
Dark leafy greens 
Olive oil 
Beans 
Fish 
Easy Ways to Incorporate Heart-Healthy Foods into Your Diet
It can be overwhelming to overhaul your diet at once, so it's important to take it slow and make small changes at a time. Try to incorporate one new fruit or vegetable every week, or simply switch to whole wheat bread. Of course, if you don't want to completely change your diet, you can also try adding one or two heart-healthy ingredients per day. For instance, try adding a handful of spinach to your morning omelet or topping your lunch salad with avocado. 
Heart-Healthy Recipes to Try 
Using Avocado 
Avocado is packed with healthy fats and potassium, making it a great addition to any diet. A simple way to use avocado is to add it to your morning toast. Simply mash half an avocado, add a pinch of salt, and spread it onto a piece of whole-wheat toast. 
Using Garlic 
Garlic provides a healthy boost of antioxidants and has been linked to a reduced risk of heart disease. To make an easy garlic-infused dish, sauté garlic, and olive oil together until fragrant, and use this mixture to roast your favorite vegetables. 
Using Dark Leafy Greens 
Dark leafy greens are also full of antioxidants and vitamins, making them an excellent choice for those with hypertension. Try adding steamed kale or collard greens to your lunch or dinner. You can also make a quick side dish of garlic sautéed spinach to go with any meal. 
Why You Need to Closely Monitor Your Sodium Intake as You Age
It's important to note that salt intake can have a significant effect on your blood pressure. This is especially true for those over the age of 65. The American Heart Association recommends that adults over the age of 65 consume no more than 1,500 milligrams of sodium per day. Be sure to read food labels carefully and opt for low-sodium options when possible. 
Work With Senior Helpers Tempe
With the right dietary changes, anyone over the age of 65 can reduce their risk of hypertension and promote good heart health. As you make these changes, the team at Senior Helpers Tempe is here to help. We provide in-home senior care services in San Tan Valley, Ahwatukee, Queen Creek, Mesa, Gilbert, Chandler, South Phoenix, Central Phoenix, Laveen, Arcadia, Biltmore, Sun Lakes, Maricopa, Casa Grande, and Tempe. Contact us today to learn more about how we can help you live your best life possible.