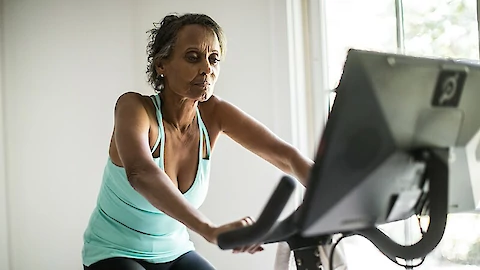 Benefits of Indoor Cycling
Americans have embraced indoor cycling as a way to stay fit while social distancing during the pandemic. Sales of stationary bikes more than doubled in 2020, according to market research firm NPD, with many at-home cyclists pedaling on internet-connected bikes so they can watch a spin class for motivation while exercising.
Stationary bikes offer multiple benefits. For people with arthritis, back pain, mobility issues, or other orthopedic problems, biking puts "no impact on knees or hip or back, so you can reach higher aerobic intensity without hurting your joints," says Kristin Matteson, an occupational therapist at Newport Hospital in Newport, Rhode Island. Multiple studies have shown a link between exercise and a reduced risk of depression and anxiety, and participating in an online spin class "can give you that socializing feel," Matteson says, which has both cognitive and psychological benefits.

To protect yourself from cycle-related aches, make sure your stationary bike is adjusted to fit your body. including the seat height and position, the height of the handlebars, and the position of the foot on the pedal. An improperly adjusted bike can strain the back, knees, and hip. And before starting any new exercise route, talk to your doctor or healthcare provider.
When: Select Dates: January 9, 23, 30 | 8 – 11 a.m.
Where:  1201 N Galvin Pkwy Phoenix, AZ 85008
What: Dog Days at the Garden at Desert Botanical Garden
Enjoy a "pawsitively" perfect morning stroll through the Garden at Dog Days at Desert Botanical Garden. You and your pup will have a tail-wagging good time exploring the beauty and sniffs of the trails. Please BYOB (bring your own bowl) to fill at water refill stations. Grab a coffee to go from Gertrude's Café or enjoy a snack at Patio Café where dog-friendly seating is available. For the health and safety of guests and dogs, please note the following: 
Please BYOB (bring your own bowl) to fill at Hydration Stations located at 5 points throughout the Garden.
Please bring waste bags and clean up after your dog.
Dogs must be on a leash, licensed, and up-to-date on vaccinations.
Owners must maintain control of their dogs at all times.
Any dogs deemed to be aggressive to humans or other dogs will be asked to leave the Garden.
Watch those noses and paws! Be alert to cactus pieces and other debris on the trails and do not allow dogs to wander off-trail.
Be aware of your dogs' limits and monitor your pet for signs of heat stress.
An indoor "cool-off" space is located in Webster Auditorium. You may also locate cooler areas under the shade of mature trees on several Garden trails.
Cost: Included with Membership and General Admission | Visit the event website for details.
For more information on events in Tempe, visit our Tempe Events Page.