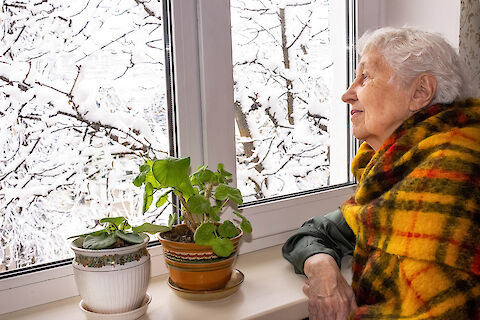 3 Ways to Stop Shorter Days from Impacting Quality of Life in Fall and Winter
Fall and winter can be depressing seasons for many people, but the elderly are often the most vulnerable. From seemingly minor mood swings to life-threatening health conditions like heart problems, the dark months can significantly reduce the quality of life for senior adults.
As a caregiver to the elderly in Tempe, Ahwatukee, Mesa, Chandler, South Phoenix, Central Phoenix, Arcadia, Biltmore, Laveen, Sun Lakes, Queen Creek, Gilbert, San Tan Valley, Casa Grande, and Maricopa, there's something you can do to stop shorter days from impacting seniors' quality of life during fall and winter. Here are some of the ways you can help:
1. Let There Be Light
When the seasons change in Tempe and surrounding areas, some seniors may experience episodes where they feel sad or not like their usual selves. They may feel "down" during shorter days in the fall and winter and start feeling better in seasons with longer daylight hours.
Sometimes, these seasonal mood swings are more serious and can affect how an elderly adult feels, thinks, and handles daily events. When you notice significant changes in a senior's mood and behavior during winter or fall, they may be experiencing seasonal affective disorder (SAD). Symptoms include:
Feeling depressed most of the day, almost daily
Losing interest in activities they once enjoyed
Feeling worthless or hopeless
Sleeping difficulties
Having frequent negative thoughts, like death or suicide
So, how do you help seniors deal with SAD?
Light therapy has long been used to remedy seasonal affective disorder. It exposes seniors with SAD to artificial bright light to compensate for the reduced natural sunshine during the darkness of fall and winter. The individual sits in front of a bright light box for approximately 30–45 minutes daily throughout the dark months.
You can do the following to increase the exposure of seniors to natural light:
Open window coverings to let in more light into the home
Help seniors spend most of their time in the brightest room of the home
Elderly adults with eye diseases or under specific medications that increase light sensitivity should use alternative SAD treatments. Or use light therapy under medical supervision.
2. Keep Warm Inside
Most seniors feel cold every now and then during fall and winter in Ahwatukee, Mesa, Chandler, South Phoenix, Central Phoenix, Arcadia, Biltmore, Laveen, Sun Lakes, Queen Creek, Gilbert, San Tan Valley, Casa Grande, and Maricopa. Just being really cold can make them seriously sick.
The elderly can lose their body heat faster than young adults. Changes in their bodies resulting from aging make them sensitive to cold temperatures typical in shorter daylight seasons.
That means a big chill can quickly become a dangerous problem before a senior knows what's happening. Physicians call this problem hypothermia, a condition where the body temperature gets very low and can cause health issues like heart attacks in the elderly.
As a caregiver, keep warm inside to reduce the risk of hypothermia in seniors during the cold season. Ensure the inside temperature is warm enough. The National Institute of Health recommends that the heat inside be at least 68–70°F.
Additionally, ensure seniors are dressed warmly enough. The doors, windows, and furnace should also be checked to make sure they are cold-weather-ready.
3. Exercise Regularly to Stay Active
According to Harvard Medical School, exercising outdoors during the cold season can help depressed seniors. However, proper warm-up, health considerations, and the right equipment are essential when exercising outside during the cold season.
If it's freezing outdoors, consider indoor exercises. A great rule of thumb is skipping outdoor workouts when temperatures are at 32° F or below. Another best practice is to help seniors exercise during the warmest part of the day and ensure they stay hydrated.
Some physical activities are better than none for the elderly—the more physical activities they do, the more health benefits they receive.
According to the Centers for Disease Control and Prevention, adults aged 65+ need at least 30 minutes daily (for five days) of moderate-intensity activity, such as brisk walking, to maintain healthy aging. Or they require 75 minutes a week of vigorous-intensity activities such as jogging, running, or hiking.
Help Seniors Enjoy Shorter Days
Caregivers from Senior Helpers of Tempe enjoy making a difference in their communities. We love and are dedicated to helping improve seniors' overall quality of life. Our goal is to provide top-notch in-home care while making real connections to seniors in Tempe, Ahwatukee, Mesa, Chandler, South Phoenix, Central Phoenix, Arcadia, Biltmore, Laveen, Sun Lakes, Queen Creek, Gilbert, San Tan Valley, Casa Grande, and Maricopa.
Want to learn more about our services? Contact us for more information. If you are interested in a caregiving career, visit our website to apply now.