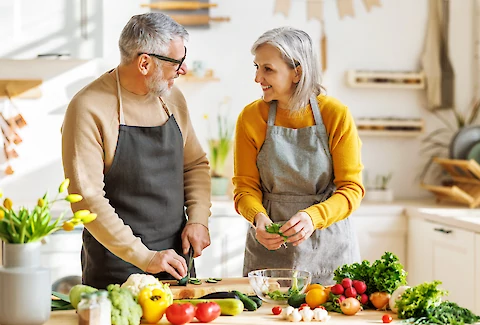 Planning out meals can be daunting if you haven't attempted to do so before. Yet, learning how to meal plan is a convenient way to enjoy healthy foods while staying within your budget. With some tips in mind, you can have an easier time planning your meals and keeping money in your pocket.
Benefits of Meal Planning
Meal planning has various benefits. It can help seniors save on their budgets and reduce food waste. When meal planning, you will have a complete idea of what ingredients are needed for all your meals. This helps you get everything at once and avoid extra trips to the store. Also, since you know ahead of time how much of each ingredient needs to be bought, this prevents you from buying too much and having leftovers go bad in your fridge or end up in the trash. 
Stick to Your Grocery List
Creating a grocery list and sticking to it helps seniors stay focused on what items are needed for their meal plan. This prevents you from buying items that do not contribute to the meals planned, saving you money. Many online resources allow seniors to type in ingredients they have at home and reveal recipes based on those contents. Another budget-savvy tip is creating a weekly grocery shopping checklist with key items, so there's no guessing when it comes time to shop each week.
Take Advantage of Store Specials
You will also want to take advantage of store specials. They are often listed in the store's weekly ads online and also in print. Nearly all grocery stores have sales at various times that allow shoppers to purchase items at discounted prices. That is, as long as they're bought within the time frame specified.
Cook in Bulk and Freeze
If you plan to cook the same meals for a few days, it might be worth your time to prepare some of them in bulk. Cooking in bulk can help save both time and money. For example, buying larger packs of chicken or ground beef usually equates to a better price per pound compared to the smaller package sizes. They will also last longer if stored appropriately. You can even make the meal in full and then freeze it to be reheated at a later date for a fast meal one night when you're not in the mood to prep and cook.
Top Meal Plan Contenders
For a balanced meal, many people opt for having at least one type of produce, either a fruit or vegetable. Soup is usually viewed as an easy dinner to make since it requires minimal ingredients and cooking time. Even adding some protein like beans or chicken can help seniors get more nutrition from the soup. 
Serving up a potato bar with various toppings is another simple option that allows you to use quite versatile items in your fridge while making it enjoyable and customizable. And don't forget about veggie stirfry! This is relatively quick and inexpensive, depending on what vegetables are used, and packs a lot of nutrition.
Contact Senior Helpers Glendale for Further Guidance
At Senior Helpers Glendale, our experienced caregivers can provide you with support and assistance in meal planning. If you want to learn more about how we can help seniors plan their meals while caring for their budget and nutrition, please don't hesitate to contact us. We service the surrounding cities of Glendale, including Waddel, Tolleson, Goodyear, Avondale, Litchfield Park, Luke Air Force Base, Phoenix, and Peoria.