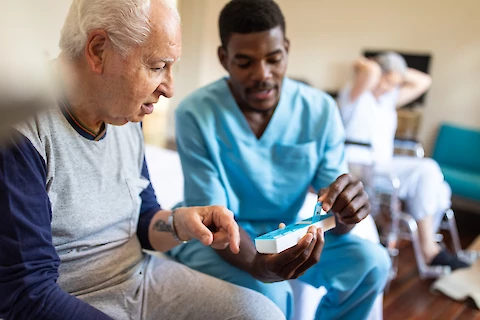 In-Home Elder Care - Is it Worth the Investment?
Finding the best elder care for a loved one is something all of us will eventually have to deal with. There are many elder care options to choose from and finding the best one for your unique situation can be challenging. Especially because we want to make the best possible choice for our elders. It's easy to sometimes feel overwhelmed when confronted with these difficult decisions. However, Senior Helpers Milwaukee is your local expert in senior care, and we're here to help.
Read on to discover some different elder care options that are available to you, and why they are worth the investment.
What is Elder Care?
As we age, it's normal to have to make adjustments in order to continue living independent lifestyles comfortably. There are many types of care options available, including some you may not have been aware of. It's important to know all of your options in order to get the most appropriate level of care.
What Care Options are Available to Me?
You're probably already familiar with nursing homes and long-term care facilities. However, did you know that aging in place is another possible solution, and one that can even lead to better health outcomes? There are many in-home care options available for you to explore. These include:
Alzheimer's and Dementia Care: Senior Helper's expert-designed Senior Gems program

Companion Care: Daily companionship and assistance with daily living activities, including errands

Personal Care: Intimate non-medical care needs

Transitional Care: Senior Helper's Staying Home Safe program transitions your loved one home after a rehab or hospital stay to aid their recovery and lessen the likelihood of readmission

Respite Care: Relief for family caregivers

Wellness Watch: Periodically check in on your loved in to make sure they are healthy and doing well
There are many other care options to consider as well. If you have any healthcare or companionship needs, it's likely that there is a home care option available to you.
Is In-Home Care Worth the Investment?
You might assume hiring in-home care for your loved one to be costly. However, a government study measuring the cost vs savings of aging in place found that nursing home costs can be three times as expensive as non-institutional care. The same study also noted that the homes of those considering moving to long-term care facilities had, on average, not been updated in ten years which made them sometimes challenging to sell.
It's also important to be aware that there are several options available to help fund in-home care. For example, long-term care insurance can offset the cost, and we can help you evaluate your policy. Whole life insurance plans allow you to borrow against the policy while keeping your insurance. If you're considering this option, contact your insurance agent. Alternatively, if your loved one has served in the armed forces, or if you are a surviving spouse, there is a veteran's aid benefit that can reimburse health care expenditures, including in-home care costs. We also accept IRIS, and Aging and Disability Resource Center referrals.
Other Benefits to Consider
Beyond saving money compared to the typical nursing home or assisted living costs, there are other benefits to in-home care. Studies comparing aging in place to nursing homes and care facilities have found that aging in place was not only more cost-effective, it improved cognition, lowered rates of depression, and increased daily living activities. Aging in place may also help slow the advancement of memory loss, as familiar surroundings and smells can significantly increase memory recall.
What are My Next Steps?
If you or a loved one are in need, it's important to know all the options that are available to you. Senior Helpers can assist your loved one with many daily tasks and healthcare needs. Call us today for your free in-home assessment at (414) 404-9933.