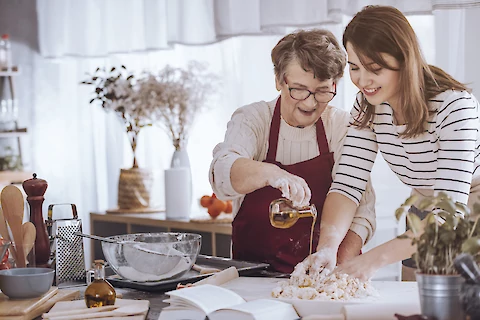 It is the holiday season and there is so much to do. Putting up decorations, attending holiday gatherings, purchasing and wrapping the perfect gifts, baking cookies for Santa's arrival, and the list goes on. It's understandable that with all of these extra add ons, you may feel that the schedule you were maintaining before the holidays is no longer manageable. Perhaps you even feel a bit burdened by your elderly parent and the responsibility you feel for checking in on them. Everyone feels this way from time to time. Let's figure out some ways to keep checking on your loved ones without it feeling like a chore.
Include Them in Your Plans
The quickest way to accomplish two tasks at once is to combine them. If you are going holiday shopping or feel like doing some baking, invite your elderly parent to accompany you. Spending time together is a precious resource that will not be available forever. The more activities you can partake in together, the more you and your loved one can learn and grow to appreciate one another at this current stage in your lives. This option is also great for maintaining an active social calendar and beating the wintertime loneliness that can often be part of an elderly parent's life. As an added bonus, you will not have to wonder if they are safe because they will be with you. 
Set Up a Phone Train
If the hustle and bustle of the holiday season are absolutely running you ragged, consider rallying the troops. Find as many individuals as you can to give your elderly parent a call throughout the month so you can be sure that they are being checked on while you handle other responsibilities. Create a schedule for when each person is responsible for calling or checking in and create a group message as a central hub that can be used as a tool for communicating needs that your elderly parent may have or just reporting how the phone call or visit went. Senior Helpers will work with you to find ways to meet any needs that arise as well as offering insight on arranging a schedule.
Stick To a Schedule
Having a set time each week that your loved one can expect to see or hear from you can be very helpful. Scheduling your phone calls with your senior loved one will help establish a healthy routine. It will help your seniors stay upbeat and energized especially if they're having a rough day. 
Befriend the Neighbors
If your loved one has neighbors, try to become friendly with them. Having people near your elderly parent that you can call to check in on your loved one will likely be an extremely beneficial resource, especially in emergency situations. If you can't get in touch with your parent or something comes up and you are unable to stop by and see them, knowing that someone can drop in for a visit may give you some much-needed peace of mind. 
Hire a Caregiver
If none of the above options work for a long-term solution, consider hiring a caregiver. Senior Helpers Milwaukee provides in-home senior care and is able to help you ensure the safety of your elderly parent. From companion care to meal preparation and transportation for appointments, we offer many services in the Madison, Beloit, Janesville, Stoughton, Monroe, and Oregon areas to give your loved one a helping hand. Contact us today to see what services might be right for you and your elderly parent.