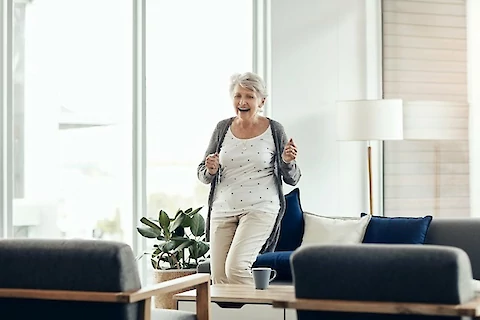 The global pandemic of 2020 has changed the way every human being on earth lives. Now more than ever, it's crucial to find and participate in activities that boost energy levels, help to maintain mental sharpness, and bring joy into our daily lives. This is especially true for seniors who may be isolated from their friends and family to prevent the spread of COVID-19.
When it is not possible to participate in the activities we've always loved or even to spend time with our friends and family, the best thing we can do for ourselves is to stay busy. Staying busy helps keep minds and bodies active during the day and restful at night. Even though it may feel like we are "faking it until we make it," it is essential to remember that we can find great joy in the littlest things in daily life.
Get on Social Media
Social media is a great way to stay in touch with friends and family. And according to recent studies, about "43 percent of those aged 65+ are now on Facebook" making it a great way for seniors to connect with each other and reconnect with old friends. While it may not seem like much, having a daily interaction with a friend or loved one can do a lot for our state of mind even if it is online. Social media helps keep our brains active and helps to alleviate feelings of isolation.
Pro Tip: For added fun, ask a caregiver, child, or grandchild to help you set up a profile if you're new to social media. It's a great way to spend quality time with someone from a distance.
Practice Good Sleep Hygiene
Sleep is vitally important to our physical and emotional wellbeing. Older adults commonly experience difficulty falling and staying asleep. While there are many potential causes, it is universally beneficial people to practice healthy sleep habits. This may include going to bed and waking up at the same time every night, avoiding television before bedtime, creating rituals, and maybe even speaking with a sleep specialist in the Greater Richmond area.
Pro Tip: If you are experiencing insomnia, ask your pharmacist or primary care doctor if it may be a side effect or a negative interaction between any medications that you are taking.
Go For A Walk
The simple act of going on a walk has endless benefits mentally and physically. It helps us to get out of the house, spend time in the outdoors, and strengthen our bodies. Just spending 30 minutes a day walking at a brisk pace helps to improve our moods and metal sharpness by reprenshing brain cells with blood and oxygen. Walking can also help to improve sleep quality, prevent injuries, and control weight.
Pro Tip: If you're looking for a little adventure in the Mechanicsville, Richmond, Highland Springs, or greater Quinton areas, here are some great walking paths to explore.
Seek Companionship
Having a companion for a game of cards or scrabble, someone to watch a classic movie, read a novel out loud, or even help tend a small garden are excellent to keep seniors active and engaged. Senior Helpers of Greater Richmond can help. Please reach out to learn more. A senior companion might be just what you needed to find joy in daily life.