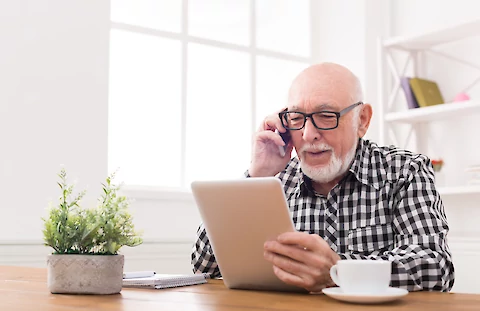 How Seniors Can Start Volunteering By Phone
Senior Care: Why Seniors Should Consider Volunteering by Phone
A meaningful social life and fellowship with others is a huge part of our mental health and well-being. If the COVID-19 crisis has taught us anything, it's the value of socialization for aging adults.
We know that mobility challenges and health risks can make it difficult for seniors to spend time with others. Retirement makes it tough to achieve a feeling of accomplishment. The National Institute on Aging says feelings of inactivity, isolation or boredom can lead to serious issues like depression, sleep troubles and weight loss.
The great news is that seniors in the greater Richmond area can obtain the positive feelings of socialization and accomplishment by volunteering by phone. With this article, we'll point you to some resources that can help. Even if you or your loved one cannot work outside the home, you can still provide a valuable — even life-changing — experience for others.
Volunteering by Phone: How to Get Started
Every journey begins with a first step. If you're looking to volunteer, try these trusted resources first:
The American Association of Retired Peoples (AARP) has the perfect resource for seniors who would like to help others. Start by checking the boxes of service that interest you. AARP's volunteer wizard will direct you to nearby organizations that can use your help.

Senior Corps is another excellent starting point. Mature adults can volunteer their time as foster-grandparents or senior companions for other adults, for instance.
You don't need to be an expert to help others! Your thoughtful time is often enough. If you'd like to try volunteering by phone, AARP suggests that you can create a phone list with your neighbors and start by reaching out to others in your neighborhood.
The Proven Benefits of Volunteer Work for Seniors
Studies by Harvard suggest that volunteering is good for stress reduction and may help high blood pressure. Even as little as 100 hours a year (that's less than two hours every week, all year long) shows considerable benefits for overall mood, appetite and health.
Which volunteer activities help seniors most? The jury is still out on that. Still, it seems likely that tutoring could help with memory skills, and that artistic coaching may help fine motor skills. In any case, we believe that any positive volunteer work will lead to positive emotions and a break from the mundane. So fill your extra hours with volunteer work!
At Senior Helpers in Mechanicsville, our mission is to help seniors, their caregivers and their families enjoy their best life at home. If you're planning on aging in place in the Greater Richmond area, we can help. We work in Mechanicsville, Richmond, Highland Spring, and Quinton. Our services range from companion care and personal home care to more specialized help for individuals with Parkinson's disease and Dementia. Contact us today.