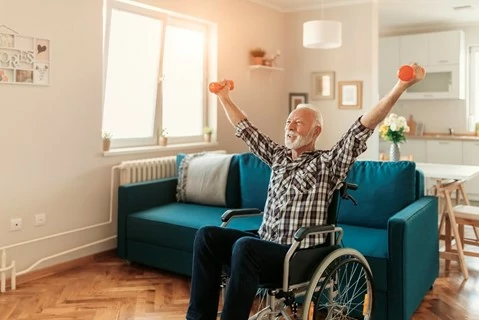 While we all want to stay active and healthy, there are many factors that can impact our mobility. But that doesn't mean we need to live a sedentary lifestyle. There are many wonderful activities that would be appropriate for older adults with limited mobility to participate in.
The team of professional caretakers at Senior Helpers of Greater Richmond serving the Mechanicsville, Richmond, Highland Springs, and Quinton areas are dedicated to helping seniors and their families enjoy life to the fullest extent. Here are some great activities for seniors with limited mobility to have fun, enjoy life, boost mood, and stay engaged in the world.
Enjoy Music
It has the magic power to provide emotional balance and reduce stress, pain, and anxiety. It could also improve sleep, memory, and the function of your immune system. According to the Institute on Aging, music could better emotional well-being, physical fitness, energy levels, cognition, and other more for seniors. Also, according to the American Seniors Housing Association, playing music could not only help increase memory and attention span but also become an emotional outlet.
Play Brain Games
They are an excellent source of fun times. Crossword puzzles, jigsaw puzzles, and sudoku are all inexpensive, but they could provide hours of a great time with entertainment. There are so many ways to do puzzles and games; they could be played in groups with visitors, solo on your own, or one-on-one for a quality time. Try Nonogram, also called "Picross" or "Griddlers"; it is a brain game. The picture logic puzzles have a grid of squares to fill in, and once it is complete, a hidden picture comes out.
Stay Active
For seniors with limited mobility, there are still exercises that they could do to get the bodies moving. Whether they are standing or sitting, they could practice poses from chair yoga or seated exercises, or incorporate a walker to add stability. Study shows that yoga has a lot of benefits for seniors. It could not only increase balance, flexibility, and muscle strength but also retain and even regain some mobility.
Get Creative
Getting creative is another fantastic way for seniors with limited mobility to spend time. Painting, drawing, coloring, or sculpture is all an excellent way for creation. Interesting projects could include creating scrapbooks, making a family cookbook, or organizing family photo albums. Also, being creative comes with health benefits. Some research has found that being creative could help people who suffer from chronic diseases reducing negative emotions, such as stress and anxiety, and raising positive ones to improve medical outcomes.
Volunteer From Home
For seniors with limited mobility, they could still give back to their community. It is always great to be engaged and connected to feel a sense of meaning and achievement. Contact local charities, religious organizations, or hospitals to see if there are any projects for seniors to make their contribution and feel needed. They could enjoy projects like knitting or crocheting hat, blankets, scarfs, and others, creating no-sew blankets, assembling care packages, and so on.
Senior Helpers of Greater Richmond serving the Mechanicsville, Richmond, Highland Springs, and Quinton areas is a leading home care provider, and its mission is to provide compassionate care and improve the quality of life for seniors as well as their families during the aging process with peace of mind and independence in their homes. To learn more about it, contact us today.