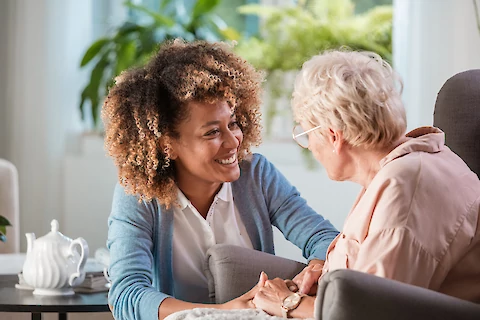 4 Tips For a Successful First Day with Your Professional Caregiver
Helping your senior loved one safely and happily age in place in the comfort of their own home is an incredible gift. In fact, in-home healthcare has become the dominant trend in geriatric healthcare across the United States. According to the National Council on Aging, nine out of every ten seniors expect to be able to age in place. And 86 percent of people 70 years or older report high confidence in being able to remain at home, despite medical conditions. Regulatory oversight may focus only on nursing home care, but home care has become the American way. 
For home care to be successful, it's essential to get off to a good start. Senior Helpers of the Mechanicsville, Virginia area is happy to offer tips to ensure a smooth home care transition for your loved one. 
1. Establish a Support System
A home care aide is a new face for your loved one to get used to. They may find it intrusive to have a new person in their home. It's important for you and your family to show your loved one that you care by providing as large a support system as possible. It helps to involve as many close family members as you can on the day home care begins so that your loved one doesn't feel alone or abandoned during the process. 
2. Look for Common Ground
Your loved one has a strong and distinctive personality; it's why they've chosen to remain in their own home rather than going to a skilled nursing facility. Each home care aide who works with them will have a  unique personality as well. While personalities don't always mesh, it's essential to find as much common ground as possible early on. Help your loved one share meaningful life experiences, hobbies, and preferences to build a positive relationship. 
3. Set Expectations and Limitations
It's important for your loved one to establish a relationship with their home care aide built on trust and respect. To do that, your loved one must understand the expectations that the aide has for care. Still, it's also vital for your loved one to communicate their preferences and limitations. It may be a shared relationship, but it's still your loved one's home environment. 
5. Get Down to Business
Relationship building is a critical component, but it's equally important to establish a formal plan of care as soon as possible. Make sure to discuss all care concerns and your loved one's abilities with all parties involved. Don't forget to incorporate your loved one directly into the care planning conversation as well. 
Aging In Place With Home Care
Seniors who wish to age in place in a familiar environment have more options than ever before, but for home care to be successful, it's essential to get off on the right foot. Senior Helpers of Mechanicsville, Quinton, Highland, and the surrounding areas of Richmond, Virginia, is proud to help you and your loved one start your home care journey.