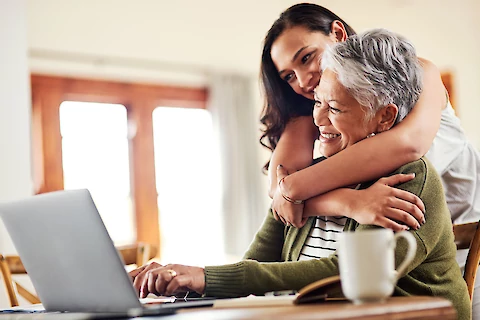 Alleviating Feelings of Social Isolation in Seniors
The elderly often face long periods of loneliness, due to smaller social networks. In our new normal, alleviating feelings of social isolation in seniors is more important than ever.
Thus, finding activities that seniors can comfortably engage in, both by themselves and with their families, can help improve their quality of life as they age in place.
Family Activities
Staying connected to family and friends is one of the best ways for seniors to avoid social isolation. However, face-to-face interactions are often reduced when family members live in different towns or time zones.
Meanwhile, new travel regulations and guidelines have made it even more challenging for seniors when visiting loved ones.
So, consider setting up a virtual family gathering weekly or even a few times a week, where all the members of your family can "meet up" and get updates about each other's lives.
If your loved one isn't familiar with digital technology, have a local family member help with a "virtual setup" using a laptop, tablet, or smartphone. Or, you can help your loved one set up Zoom via a phone call. In all, Zoom is quickly emerging as the best and most efficient platform for helping individuals stay in touch.
If an in-person session to get your loved one set up on Zoom isn't an option due to distance, there are countless organizations like AARP offering extremely thorough instructional resources for doing so.
Virtual family meetings don't have to comprise quick check-ins and updates alone. Assign a member of the family to pick different games and activities that everyone can engage in virtually.
If your loved ones are amenable, consider sending them copies of their grandchildren's favorite books and setting up a weekly reading session. Studies show that intergenerational interactions can decrease the levels of depression in seniors.
Walks at a Distance
If your loved one lives in a community or area that is conducive to walking, set up a time to meet each week, and go on a social distancing walk. You can stay on opposite sides of the street if needed or simply keep a safe distance while walking together. Even a few minutes of this type of interaction can help your loved one feel more engaged with life and give them something to look forward to each week.
Crafts and Activity Baskets
While family interaction is critical for seniors, it is obviously not possible to engage with your loved one every minute of every day.
When you can't enjoy face-to-face interactions with your loved one, sending care packages that contain various crafts, games, and activities can help provide mental stimulation and stave off negative feelings and emotions.
If crafts and games aren't your loved one's cup of tea, basic art activities like coloring books may help.
That said, if you're struggling to connect with an aging loved one, contact us. At Senior Helpers in Richmond, we provide companionship and round-the-clock care to seniors in Richmond, Midlothian, Chesterfield County, Henrico, Glen Allen, and Powhatan. We stand ready to help you get the assistance you need to keep your family healthy, happy, and safe.