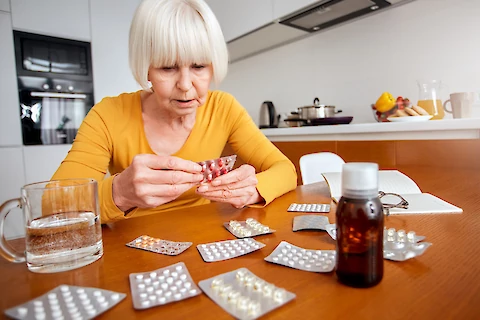 As a senior, managing your prescription medications can be tough. You may have an increasing number of medications to keep track of, and it may be more difficult to keep up with what you need to take and when you need to take it. Fortunately, there are several strategies you can use that may help you better keep up with your medication needs. 
Why You Should Organize Prescription Medications
It's important to keep track of your medications, both prescribed medications and over-the-counter medications. Keeping your medications organized helps you avoid taking too much or too little, as well as avoiding dangerous drug interactions. Additionally, it prevents you from missing out on critical refills of your medications. Finally, organizing your medications means that you know where they are and how much of them you have on hand, which can make it easier for you to track them if anything goes missing. 
Tips for Organizing Your Medications
Organizing your medications can feel like a daunting task, but it doesn't have to be. There are several strategies that can help you better organize your medications. 
1. Store All Medications in the Same Place
Create a designated area for your medications, and make sure all of your medications are stored in that place. This will help you easily keep track of all of your medications and ensure that you do not discover forgotten prescription bottles in the back of a dusty cabinet. 
2. Use a Pill Organizer for Daily Medications
If you have many medications to take each day, it can be helpful to get a pill organizer to keep them organized. This will help you make sure you're taking the correct dose of your medications at the right time. Pill organizers can be divided into times of day as well as days of the week. 
3. Label All Medications
It can be difficult to keep track of all of your medications, so labeling them can be helpful. Make sure you list all of the ingredients, dosage, and any warnings that may be important to know. Checking those labels can also remind you of dosing instructions or potential interactions. 
4. Use an App for Refill Reminders
Using an app to remind you when it's time to refill your medications can help you stay on top of refilling your medications on time. You may also be able to find apps that will issue reminders when it's time to take your medications, which can help ensure that you don't forget a vital dose. 
Get More Help Keeping Up With Medications and More
Organizing your medications can often be a tedious task, but it doesn't have to be. Following the tips mentioned above can make it much easier to manage your medications. If you're looking for additional help managing your medications or other daily care tasks at home, contact Senior Helpers McKinney in McKinney, Allen, Frisco, Prosper, and Wylie. Our team of experienced caregivers can provide you with in-home medication management services to help you stay on top of your medications or provide vital assistance with regular self-care tasks.