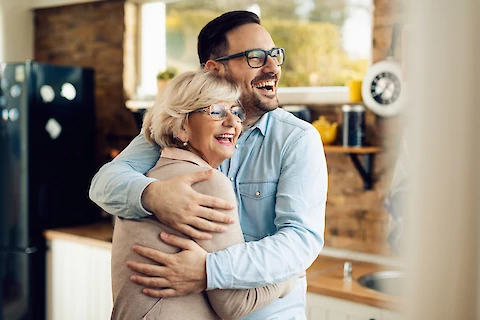 Tips to Find Balance when Caring for Aging Parents
Caring for aging parents can be a full-time job, but many adults who take on the role of caregiver for a family member can't devote that much time to the task. They often have their own full-time jobs already, as well as families and personal responsibilities of their own. Balancing a job and family while caregiving requires careful planning and consideration to help you avoid caregiver burnout.
Communicate With Your Boss
You know your job situation best. If you have some flexibility, talk to your boss about your caregiver responsibilities. You may be able to work from home part of the time, adjust your hours in the office, or take leave to care for your mom or dad. Your employer may also understand if you need to leave work suddenly (or step away from your home office) to handle an emergency.
Create a Routine
Everyone can benefit from a schedule. You'll get to work on time by ensuring your mom or dad is up, dressed, and eating breakfast by a certain time. When your parents know what to expect and when, they'll be less likely to need your help when you're in the middle of other obligations. Scheduling lunch, dinner, and activities like a walk or a card game helps you create balance between your work and caregiving roles while carving out quality time to spend with your family.
Schedule Time With Your Kids
If they're old enough, talk to your kids about what it means to be a caregiver and why you have to devote time to that role. If your children and parents are both willing and able, bring the kids along when you go over to your parents' home to prepare dinner or help them get ready for bed. Talking and playing together can be rewarding for young and old alike. Be sure to schedule alone time with each child as well, and do an activity the child enjoys.
Hire a Home Caregiver
You don't have to do this alone. You might have other family members or close friends who can take a caregiving shift or two. If not, you can hire a full- or part-time home caregiver to give you a break and help you balance your life with your caregiving role.
At Senior Helpers in Central Houston, we offer Respite Care Services. It's like having a caregiving partner. Our compassionate, highly-trained caregivers can take over for an hour or a whole week to let you run errands, go to the gym, do an activity with your family, or even leave town for a little vacation. Taking care of yourself is more important than ever when you feel yourself stretched thin between responsibilities, and Respite Care can give you the space you need to do it. Contact us to learn more about home caregiver services in Houston, TX, and the surrounding areas.