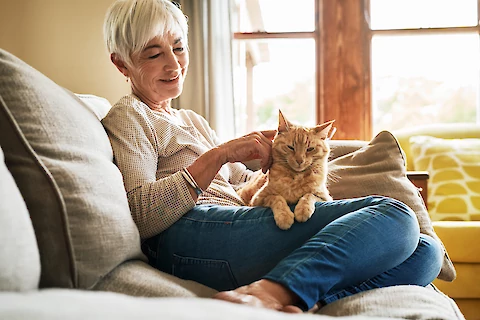 Prevent Isolation for Seniors Sheltering in Place
Isolation poses a significant health risk for seniors. Loneliness and social isolation increase the risk of dementia, heart disease, stroke, depression, and even suicide. Since seniors are also at a greater risk of developing serious complications if they contract COVID-19, many cities and states, including Texas, are still encouraging them to stay home to reduce the risk. Visits from family members are often discouraged, leaving many seniors alone and vulnerable.
Here are a few ideas to help your loved one feel less isolated while they shelter in place due to stay-at-home orders.
Schedule Video Calls
Zoom, Skype, and FaceTime are great ways to connect with your loved one while you're each isolating in your own homes. Talk to them and see how often they would like to schedule these calls, or you both may prefer random calls throughout the week. If you struggle with conversation, consider simple games you can play together virtually like Bingo, Pictionary, trivia, or word games.
Do Something Silly
Plan a little parade down your senior's street—birthday parades have become a popular event for those celebrating during the shutdown—or talk to each other on the phone while you're standing in front of their window. Send texts, share pictures, and even write letters or send little gifts in the mail to let seniors know they're on your mind. Ask other family members and the senior's close friends to do this, too. Making events out of these small gestures gives everyone something to look forward to and creates a fun memory.
Consider a Pet
If your loved one is healthy and active enough to care for a pet, an animal can offer great comfort and companionship. It might seem like a difficult time to bring a furry friend into the household, but if your senior is up for it, it could be a welcome reprieve from the isolation he or she is experiencing.
When you shop for your senior loved one, don't forget to shop for their pet. Even if they are having trouble caring for the pet, consider all your options before removing the animal from the family. You might want to hire a senior care companion who can walk the dog or empty the litter box.
Be Careful When Visiting
If you need to check in, bring groceries, or help your loved one with various tasks, take precautions. Wash your hands before you enter the home and wear a mask. Avoid touching surfaces, and take time to disinfect before you go. Remain at least six feet away from your loved one, and keep the visit as short as possible.
If you want to meet for more of a social visit, consider your senior's underlying health conditions, if any, that may put them at greater risk of infection and complications. Consider your own risk of contracting the virus: do you work in a high-traffic space, or do you stay home most of the time? If you decide to go ahead with the visit, try to meet outside and make sure you're still following all other precautions.
Helping seniors who are sheltering in place means attending to their social needs as well as their basic physical needs. If you need assistance, contact us. Senior Helpers companion care services in Houston, TX, can offer social interaction for your loved one while following all safety protocols to ensure compassionate professional care for your loved one.