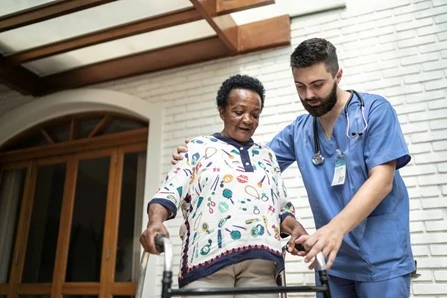 Our families are one of the most important aspects of our lives. Our parents, children, and spouse are what give our life love that can't be found from anything else. Many adults, however, are finding themselves sandwiched between taking care of the seniors in their lives and taking care of their kids, work, and everyday life.
There are many people that want to give their seniors the opportunity to age in place, although it can be difficult to provide consistent senior care on your own. This is especially true when you have children, a spouse, work, and day to day life to contend with and your senior requires around the clock care. Here are three suggestions for balancing work and your family from the oldest to the youngest member.
In addition, the team of Senior Helpers serving Houston, Harris County, and the surrounding areas are sharing some words of wisdom in order to help you find solutions that allow your loved one to age in place while also to find harmony in your life.
Take a Deep Breath
It can be a challenge to remain calm when you have people pulling at you from all directions. Parents, children, spouses, and even bosses can create a crescendo of demands (and sound) that can be overwhelming to even the calmest of people. One of the most tried and true techniques for handling the chaos is to take a deep breath, or even better, take ten. It may seem like a cliche, but taking a deep breath has real value both physically and mentally. Taking a deep breath slows your heart rate down and allows your body an opportunity to relax. This relaxation also helps calm the mind and gives you the opportunity to gain a new perspective on the situation. Once you have perspective, balancing work and family life will seem clearer and enable you to find a solution.
Accept Help
Accepting help can be hard for anyone, but it is especially hard for caregivers. Caregivers are so used to being the ones handling everything that the idea of asking for, or even more so accepting help, can seem like the last thing they want to do. However, having someone help you, even with the smallest thing like emptying the trash or tidying, can go a long way toward helping you find a positive balance between caring for your senior and your kids and work. Having an extra pair of hands can be a huge asset in making sure your senior gets the attention and care they need, including senior companionship, which is important to a senior's overall well-being.
Accepting help at work is important as well. Having a team that is willing to work with you while you juggle kids, seniors, and your job is very important and a big asset in working towards finding a balance that works for your family.
Set up Time for You
It may seem like having time for yourself is the least important thing on your list, however, it should be one of the most important things. Making sure you take time to connect with your friends, do something you enjoy, and allow someone else to juggle things for a while goes a long way toward balancing work and caring for both your family and your seniors. Protecting your time and your wellness ensures you are able to be the best you can be for your family, your coworkers, and most of all yourself.
Learn More About Balancing Work, Life, Kids, and Caring for Loved Ones
Our families are one of the most important parts of our lives. That being said, it can be a challenge to find a balance when juggling taking care of seniors, kids, a spouse, and a career. These three tips offer some suggestions on how to create an environment in which you can best find that balance. In addition, Senior Helpers offers solutions to all of your age in place questions, including 24 hour care and overnight senior care. For more information contact us today.