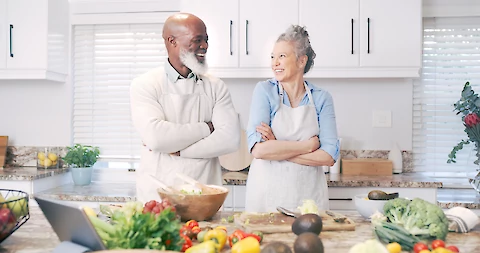 As seniors age, maintaining a healthy diet becomes increasingly important for their well-being. Proper nutrition can help seniors stay strong, fight illness, and maintain independence. One solution to help ensure seniors eat nutritious meals regularly is meal prep. This blog will discuss why meal prep is essential for seniors and how a caregiver can assist.
Why Meal Prep Is Important for Seniors
Our bodies require fewer calories as we age, but the need for nutrients remains the same or even increases. Unfortunately, many seniors struggle with maintaining a healthy diet for various reasons, such as mobility issues, difficulty cooking, or decreased appetite. Meal prep is one way to ensure seniors are getting the proper nutrition they need to stay healthy.
By meal prepping, seniors can plan out nutritious meals for the week, ensuring they get a variety of foods that meet their dietary needs. Meal prep also helps seniors save time and energy as they do not have to cook and clean up after each meal. This can be particularly helpful for seniors with mobility issues or difficulty standing for long periods.
How a Caregiver Can Help With Meal Prep
A caregiver can play a vital role in meal prep for seniors. Caregivers can assist with planning, shopping, preparing, and storing meals. They can work with seniors to determine their dietary needs and preferences and plan meals accordingly. This may include incorporating a variety of fruits, vegetables, whole grains, and lean proteins.
Once the meals are planned, caregivers can do the grocery shopping. This is particularly helpful for seniors who have difficulty getting out to the store due to mobility or transportation issues. Caregivers can also help seniors stick to a budget while ensuring they have all the necessary meal ingredients.
When it comes to preparing the meals, caregivers can take care of the cooking and cleanup. This can greatly help seniors who have difficulty standing for long periods or experience pain while cooking. Caregivers can also portion meals and store them in the fridge or freezer for easy access.
Benefits of Letting an Experienced Caregiver Do Your Meal Prep
Here are some benefits of letting an experienced caregiver do your meal prep.
1. Ensures Nutritious Meals
An experienced caregiver knows the importance of providing seniors with nutritious meals tailored to their dietary requirements. Caregivers can help seniors choose meals rich in essential nutrients such as protein, fiber, vitamins, and minerals.
2. Saves Time and Energy
Cooking can be time-consuming, and seniors may need more energy or motivation to cook. An experienced caregiver can save seniors time and energy by doing the meal prep for them. This way, seniors can focus on other activities, such as hobbies, socializing, or simply relaxing.
3. Reduces Risk of Accidents
For seniors with mobility issues or cognitive impairments, cooking can be dangerous. Sharp knives, hot stoves, and heavy pots and pans can increase the risk of accidents and injuries. 
4. Provides Companionship
Eating alone can be lonely, and seniors may lose interest in cooking for themselves if they do not have anyone to share meals with. Companionship during meal times can make the mealtime experience more enjoyable.
Need Help Making Healthy Meals at Home?
Hiring an experienced caregiver specializing in meal preparation can benefit seniors. If you or a loved one in Allentown, Bethlehem, Kutztown, Nazareth, Whitehall, or Schnecksville needs a caregiver specializing in meal preparation, consider Senior Helpers Lehigh Valley. Our experienced caregivers can provide seniors with the support and care to enjoy healthy, fulfilling lives. Contact us today to learn more.