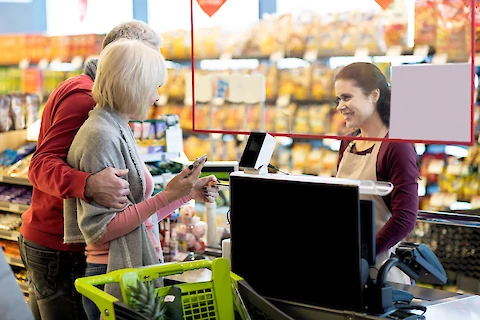 As a senior, looking for ways to save on everyday expenses can be daunting. Keeping up with the Joneses may seem like an impossible task, but luckily there are some great discounts available in 2023 specifically designed to help seniors save money on all the essentials. In this blog post from Senior Helpers Lehigh Valley, we'll explore some surprising discounts that senior adults can take advantage of to save money on a monthly basis.
1. Senior Discounts on Groceries
Grocery shopping can be expensive, but thankfully there are discounts in 2023 to help seniors save money. Many stores offer discounted prices for senior citizens on certain days or at certain times - make sure to ask the grocery store cashier if there are any discounts available. 
Tops Market has a special deal designed just for seniors. On the first Tuesday of every month, shoppers 60 and older get 6 percent off their entire grocery bill and out-of-pocket prescription drug purchase, according to the AARP's website. If you are a senior who wants to save some money on all their favorite grocery items, this is a great deal to take advantage of.
2. Senior Discounts on Entertainment
Saving money doesn't have to mean forgoing all entertainment. Consider taking advantage of some of the great discounts offered on movies, theme parks, and travel in 2023. Seniors who love to take in a movie on a regular basis can enjoy some discounts on movie tickets. Cinemark offers discounted movie tickets on select days with showtimes starting before noon - which is good news if you're an early bird!
The Walt Disney World Resort even has special ticket prices designed just for senior citizens that can be used at any one of their resort's theme parks. Before you plan your trip, however, reach out to the resort directly to confirm the offer and learn how you can claim any available senior discount.
3. Senior Discounts on Clothing
If staying fashionable is a priority, local clothing stores like Kohl's and Macy's both offer discounts to senior citizens ranging between 15 and 20 percent off. These same stores also have special days when they double the discount! It's worth asking if these deals are available at your local store. Try to get there early on weekends if you are planning to shop, so that you can avoid the crowds.
Senior Helpers Can Help Seniors Live More Fulfilling Lives
There are many great discounts available to seniors in 2023 that can help them save money on a monthly basis. Whether it's groceries, entertainment, or clothing, senior citizens have the opportunity to take advantage of some really great deals. If you're looking for ways to reduce your monthly expenses, these offers may be just the thing you need.
Senior Helpers LeHigh Valley is your resource for premium senior care services for senior adults in the Allentown, Bethlehem, Kutztown, Nazareth, Whitehall, and Schnecksville areas. Contact us today to learn more about the services we offer!