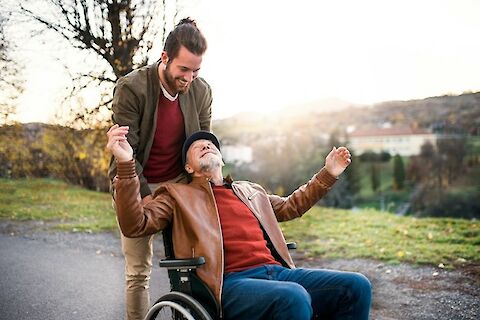 Now that summer has come to an official end, school, work, and life schedules are falling into a new normal. While life in the Erie, Waterford, Meadville, and Crawford County areas still incorporates safe and healthy practices to prevent the spread of COVID-19, for most people, the world has started to turn again. That said, there may be a senior in your life that may still be feeling isolated. To help seniors lead fulfilling lives while staying safe and healthy, it's important to help them build a growth mindset.
Here's a step by step guide to help support seniors in your life:
Ask Questions
First, talk with your loved one directly, asking them open but specific questions, like,
"What is your favorite thing during this season?"
"What things have missed during this time?"
"What things do you want to accomplish this year?"
"If you could do anything you wanted this year, without any limitations, what 10 things would you do?"
Set a Goal
Hopefully, after having an open conversation about their hopes and dreams, you will notice certain patterns. Whether it's talking about certain family members, the garden they've always hoped for, or a book they never finished reading, you should be able to help your elderly companion notice several goals (or dreams, if they are too afraid of failure to call them goals) that they have stored inside themselves. Encourage them to choose one of the goals to pursue this year- which one do they have the most drive or motivation to complete? Which one brings the most joy? Decide which dream/goal you will pursue together.
Make a Plan
Next, create a fun, detailed, measurable, and achievable plan to accomplish the goal. Of course, part of the goal is to succeed, but the other part is to make it enjoyable so that whether they succeed or not, they have enjoyed the time they have invested. Create a list together of what will need to happen before you reach the goal. Are there certain materials they will need? What about resources, or education? No goal happens overnight, so rather than aiming for the big picture, start with a specific step. If your loved one has a book they really want to finish reading, determine how many pages are left for them to read, divide them up, and create a goal for daily/weekly reading.
Reward Accomplishments
Life is better when we celebrate each other and reward accomplishments. Maybe that reward is a socially distanced outing in the Erie, Mill Creek, Fairview, Harborcreek, Waterford, Meadville, and Crawford County area, or dropping off their favorite foods, playing games, or even special (safe) visits from family or friends. Whatever the step is, the reward should be meaningful and celebratory.
Don't Give Up
Finally, stay flexible, keep your companion accountable, and empower them! In the end, it's not about you, it's about how they feel. Are the steps, goals, or rewards growing their sense of productivity and accomplishment? If not, take the time to chat with your loved one, and make whatever adjustment you need to keep the right focus.
If you're searching for a reliable, well-trained caregiver for your loved one, who will help you to have these conversations and increase the quality of life. The Senior Helpers team serving Erie, Mill Creek, Fairview, and the surrounding areas is a great resource to help support seniors. Whether you're looking for full-time, part-time, or simply a community of support as you work through transitions, we are happy to walk you through it. Contact us to get started.