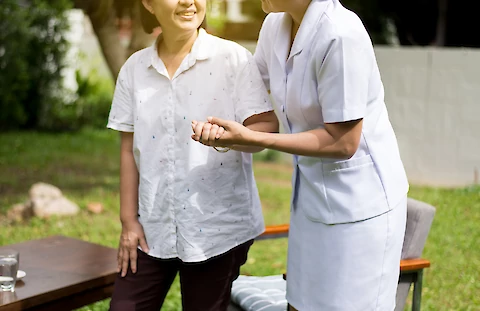 Knowing When to Get Memory Care
According to the Alzheimer's Association, more than 5 million Americans are living with some form of dementia and are supported by 16 million family caregivers. Caring for an aging loved one is a complex task. When dementia is involved, care becomes even more complex. For the caregiver, it is a job done willingly and lovingly, but not without some difficulty as it frequently involves balancing a professional and home life. Knowing when to get memory care also presents challenges.
As a loved one progresses through the dementia process, there are many practical and emotional adjustments for all involved, including knowing when to involve outside caregivers. Opting to involve caregivers in the process early, however, can allow families to treasure the moments they are in and make those some of the most valuable.
Getting Help in Memory Care is a Difficult Decision
For many family caregivers, it is a very difficult decision to call in reinforcements. Understanding that needing additional support represents an emotional transition of letting go, getting that help can represent the opportunity to help a loved one live a rich and fulfilled life.
5 Signs It's Time to Get Help
Caring for a loved one with dementia isn't easy, and neither is knowing when to enlist help. Here are five signs that a loved one would benefit from an in-home caregiver.
Changes in behavior. Changes in behavior can cause a loved one to become withdrawn, anxious, or apprehensive where they were once outgoing and independent. Other changes, such as mood swings or behaving unpredictably may indicate a need to have helpers fill in the gap when family caregivers can not be around.

Increased confusion. An increase in confusion can lead to compromised safety in managing home appliances, driving, or even leaving home alone.

A decline in physical health. A decline in physical health can indicate that a loved one isn't eating or taking medications properly when caregivers are not around.

Serious impact on caregiver stress or health. When caregivers experience overwhelming stress or increasing physical problems, it could indicate the demands of care are too much.

Sundowning. "Sundowning" syndrome is when agitation, confusion, and anxious behaviors become more pronounced later in the day. This can make it difficult to leave loved ones alone in the evening and disrupt family routines.
Top Ways Alzheimer's and Dementia Care Improve Quality of Life
As much as we'd like, no one can provide for the increasing needs of someone with dementia alone, and it is no mark against our degree of devotion when we can't. The primary goal of anyone who has a loved one with dementia is to see them as happy, healthy, safe, and engaged as possible. Professional Alzheimer's and dementia care and home caregivers help you and your loved one develop a customized plan for providing care that ensures more moments are spent engaging and building memories, and fewer moments are robbed by the tasks of care. Here are some ways that specialized care can improve quality of life:
Family caregivers have time to rest and revive thus being able to provide more quality time to their loved ones.

Those with dementia have the advantage of both family and professional home caregivers who are always at their best.

When daily living tasks are shared, there is more time to enjoy enrichment activities.

Family caregivers have more time to build a relationship with and enjoy every moment with their loved ones.

Loved ones enjoy increased safety with additional hours of supervision.

Reduced stress means a more positive environment.

Having non-family senior companionship can allow the senior to retain more independence.

In-home care allows the loved one to age in place and to enjoy what is most comforting and familiar.
Knowing when to get memory care help can be difficult, but having that help can provide immeasurable value to the life of your loved one, the caregivers, and the extended family.
Senior Helpers
Industry and peer-recognized for professionalism and compassion in senior home care, Senior Helpers serves Erie, Harborcreek, Waterford, and the surrounding areas. For more information about Senior Helpers or our services, please contact us today!