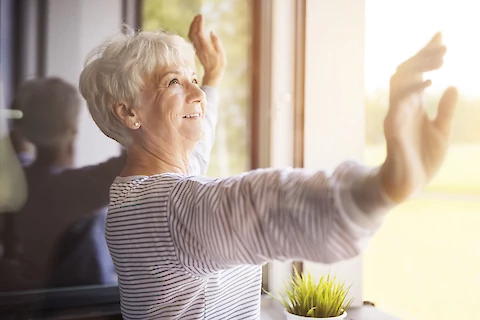 How Seniors Can Boost the Immune System
Our immune systems are our body's natural defense mechanisms, fighting bacteria and viruses to keep us safe and healthy. In the midst of a global pandemic, you might be wondering if there are ways you could naturally boost your elderly loved ones' immune system. This article will walk you through three natural ways seniors can boost the immune system.
Eating A Healthier Diet
What we eat is so important when it comes to our health. It's often easy to incorporate many of the changes that will make our diets healthier. One great change to a senior's diet is adding superfoods like spinach and broccoli. They are packed with antioxidants, vitamins, minerals, and fiber, so it is no wonder why broccoli and spinach are considered superfoods. By simply adding spinach or broccoli to your diet, you can instantly boost your immune system.
Additionally, if your elderly loved one has already incorporated spinach or broccoli into their diet, research has shown that cooking them less helps retain many of their immune-boosting effects.
Staying Active
Research has shown that regular, light to moderate exercise can do wonders for your immune system. Whether it is through a walk, some light yoga, or Tai Chi, exercise will not only help your loved one maintain a healthy weight, but will also boost their immune system by improving circulation, which enhances their immune response to pathogens.
Furthermore, exercise also has other significant benefits to immune health, as it is a natural stress reliever. Considering that long-term stress can significantly impair the immune system, the stress-relieving effects of exercise makes staying active all the more beneficial to senior immune health. Plus, if your elderly loved one stays active outdoors, the vitamin D they will get from sunlight will further boost their immune system and bone health.
Taking Care of Mental Health
As mentioned, stress can significantly reduce the strength of a senior's immune system. That's why it is important for seniors to reduce stress by staying active, getting plenty of sleep, and staying connected with friends and family.
Getting enough sleep is extremely important for immune health, especially for seniors. This is because insufficient sleep will lead to an impaired immune system and, as a result, a slower and less effective immune response to pathogens. Therefore, maintaining a healthy sleep cycle and avoiding caffeine late in the day will have a significant positive impact.
In addition, it is also important for seniors to stay connected to friends and family to decrease loneliness and depression. This will not only make them happier, but it will also boost their immune system by reducing stress. If you can't visit, you can always contact your elderly loved ones with FaceTime, Skype, or over the phone. Additionally, you could also look into Senior Helper's Companion Care which can provide seniors with companionship and conversation, and even help them run errands.
Senior Helpers Is Here To Help
Senior Helpers has been providing high quality, compassionate, and personalized care to cities nationwide for more than 18 years. So, if you have elderly loved ones living in areas surrounding Erie, Pennsylvania including Mill Creek, Fairview, Harborcreek, Waterford, Meadville, and Crawford County, Senior Helpers Eerie will help your loved ones live safer, happier and healthier lives.
Whether you're looking disease care (for example Dementia, Alzheimer's, Parkinson's, End of Life Care, etc), Personal Care, Companion Care, Live-In Care-Senior Care, or one of our other services, Senior Care Eerie has the best highly trained and compassion-licensed home caregivers to help seniors age in place. Contact us today to discuss how we can help.