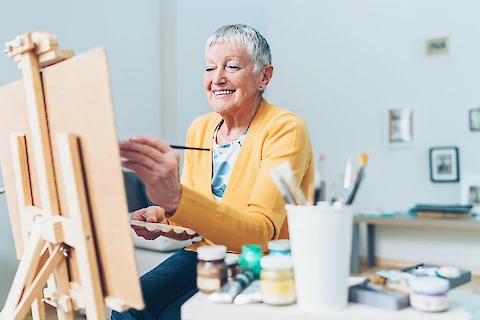 Arts and Crafts to Keep Seniors Entertained and Fulfilled At Home in Erie
It is more important than ever for seniors to practice social distancing in Erie, PA. Companions and caregivers providing around the clock care can help seniors develop new hobbies and get creative with fun and simple arts and crafts ideas. These crafts require minimal fine motor coordination and are perfect for seniors losing dexterity in their hands. They are also a great way to stay social and productive at home.
1. Scrapbooking
Bring out old photo albums and reminisce about amazing memories as you create a scrapbook. Seniors can get creative with stickers, ribbons, and other embellishments to make their scrapbook their own. Scrapbooking is a great way to remind seniors of some highlights of their lives, and show them that they're surrounded by people who love them. It also allows them to preserve memories for other family members and loved ones for generations to come.
2. Pressed Flowers
Spend time outdoors collecting beautiful flowers and then place them between two sheets of wax paper under a heavy book for the night. The next morning you'll have wonderfully preserved flowers that seniors can use to decorate greeting cards, coasters, frames, or even put on walls. Seniors will enjoy spending time outdoors and collecting beautiful blooms. They will also love bringing nature indoors and redecorating their space.
3. Painting or Coloring
Sitting in front of a blank piece of paper and creating an art piece from nothing is a great way to express your creativity. Watercolors are a great option for seniors, as they are easy to use and don't make much of a mess. Seniors can follow outlines of printed out pictures, online tutorials, or just make whatever they like. There are also plenty of coloring books available for older adults as well that feature large prints and bigger sections to color in. Painting and coloring are great ways to bond with other family members and caregivers. They can even display the art they make on their walls!
4. Decorating Birdhouses
Birdhouses aren't just fun to look at. Seniors can decorate a birdhouse and then sit outside and watch as birds come to feed. This brings a sense of accomplishment and is a great way to start the day with some fresh air. Birdhouses can be found at most craft stores. If seniors are up to it, they can even try building one themselves with store-bought kits or with plywood.
5. Sewing, Crocheting or Knitting
The projects are endless when it comes to sewing, crocheting, and knitting. From clothing items and pillowcases to quilts and book covers, seniors can make just about anything. These crafts make for wonderful gifts for friends and family and they allow seniors to express their creativity while creating useful items that will come in handy every day. They can even make items like memory quilts or throw pillows using meaningful fabric, which is a unique way to preserve memories at home.
These arts and crafts are a great way to keep seniors happy and engaged at home. If you are considering aging in place for your loved one in the Crawford County area, contact us today. We can guide you through the process of setting up home care.