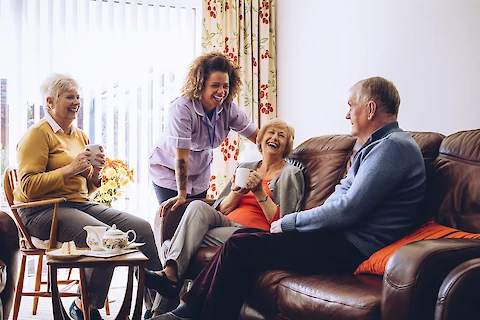 Family caregivers often quickly find their lives consumed by the task of caregiving. It can prove very difficult to take time away from a senior who needs ongoing care, especially if caregivers do not have outside support. All too often, that leads to extreme burnout. Caregivers who are unable to take breaks, or who feel unable to take breaks, are more likely to suffer from depression, anxiety, or simple exhaustion.
Fortunately, there are several ways that caregivers in New Hanover or Pender can ensure that their loved ones continue to receive a high standard of care while still protecting against burnout.
1. Schedule Regular Relaxation
Caregivers who struggle with symptoms of burnout can find it incredibly beneficial to schedule regular time for relaxation. A little time to disconnect can make a big difference. Caregivers should think about the things that they genuinely enjoy doing, from working on craft projects to visiting with friends, rather than considering needed tasks like going grocery shopping as part of their regular relaxation.
2. Encourage Family Members to Step Up
Often, family members want to help. However, when one caregiver takes on the bulk of those important tasks, it can be hard for them to figure out how they can offer assistance. For caregivers struggling to take time off, talking to family members can serve as an essential first step. Caregivers should let their family members know that they want assistance and offer specific ways that those family members can help. For example, a caregiver might note that it would be helpful to have a family member come in with dinner a couple of times a week, or that they would benefit from having a family member come over to sit with a senior loved one for a couple of days.
3. Enlist Help From a Senior's Friends
Many seniors have friends who would love to step in and offer a little assistance. Some friends may be lonely or simply want to spend more time with their friends. Others may like the feeling of being useful in their retirement years. Caregivers who need additional time off should enlist help from those friends, who could be perfect for taking a senior to events at a church or community center or just sitting with them for a few hours while the primary caregiver takes care of other tasks.
4. Use Respite Care as Needed
Respite care services can offer a vital break to caregivers who find themselves struggling to find other support or who want to make sure that a senior loved one is in the best possible hands. They can offer short-term care that ensures that seniors are well taken care of when their primary caregivers have to handle other tasks or even go out of town for a few days. Respite care providers will ensure that the senior remains comfortable, usually in their own home, while caregivers take that much-needed break.
If you're in the Brunswick or Wilmington area, Senior Helpers Wilmington can provide respite care and more for senior loved ones who may need additional assistance. Contact Senior Helpers Wilmington today to learn more.