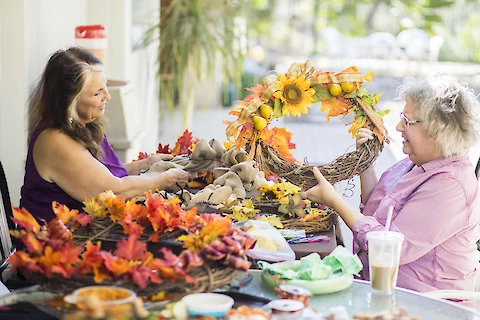 Fall is the perfect time to explore new hobbies with your senior loved ones. Keeping our elderly relatives or friends engaged and stimulated is an essential part of ensuring their well-being, especially during these cooler, often isolating months.
At Senior Helpers Wilmington, we understand the benefits of hobbies. They can enhance motor skills, stimulate memory recall, foster social interactions, and provide meaningful ways for seniors to embrace life. Today, we've got some creative ideas for fall-themed hobbies suitable for seniors. Let's explore how these activities can make this season a vibrant and enriching time for your loved ones.
Crafting
Encourage your loved one to create a fall wreath from leaves and twigs, paint pine cones, or design a Halloween door hanger. These activities aren't just fun; they also stimulate creativity and improve fine motor skills. Ensuring your loved one's hobbies are productive and tailored to their abilities can also turn an ordinary day into an invigorating one.
Baking
A baking session could be as simple as baking pumpkin bread, apple pie, or cinnamon rolls. The process of measuring ingredients, mixing, and waiting for the baked goods to come out of the oven can help memory recall. The aroma of baked goods is also a sensory delight, connecting seniors to old memories and creating new ones.
Bird Watching
Bird watching is scaleable to a senior's mobility. They can watch out the window of their homes, or join the Cape Fear Audubon Society for day trips with like-minded birders. Bird watching also challenges a senior's memory as they try and identify birds by their shapes, calls, and markings. 
Making Music
Taking up a musical instrument is an excellent way to stay emotionally and mentally fit. It also offers seniors the opportunity to join up with friends or new connections to make music together. Creating music, even solo, is therapeutic, and you don't even have to be good at it to benefit. Here are some fall-themed classics seniors can try to master. 
Indoor Gardening
Many seniors find joy in nurturing plants and seeing them grow. Caring for houseplants can improve physical health by providing some level of physical activity. It also has therapeutic benefits by reducing stress and providing a sense of achievement.
Tips for Introducing New Hobbies
Encouraging your loved ones to try new hobbies may require some patience. Here are a few tips: 
Involve them in choosing the activity.
Show enthusiasm and participate in the hobby with them.
Do not be disheartened if they initially show resistance.
Don't overwhelm them with supplies or tools unless they ask for them. 
Don't make your loved one feel obligated to participate in a hobby due to your enthusiasm; let them set the pace. 
Let Senior Helpers Enhance Their Experience
At Senior Helpers Wilmington, we are committed to helping your senior loved one in New Hanover, Pender, Brunswick, and Wilmington lead a fulfilling, independent life. One way we can help them take on new hobbies is by assisting with day-to-day tasks, from personal care to light housework. Our professionals can also provide transportation to important engagements, removing common obstacles to exploring new social opportunities. Contact us today to find out about our services.