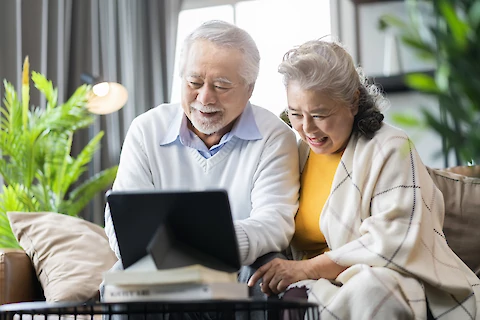 Staying connected with family and friends is essential for our well-being, especially as we age. Technology has made it easier than ever to maintain these connections, even from afar. In today's world, adult children play a crucial role in helping their senior parents embrace technology and stay connected to their loved ones. 
Senior Helpers Wilmington will explore the benefits of introducing seniors to modern technology. From user-friendly devices like tablets and smartphones to popular social media platforms and communication apps.
Choosing the Right Device
The first step in helping your senior parent stay connected through technology is selecting a device that suits their needs and preferences. Tablets offer the advantage of larger screens, making it easier for seniors to see and interact with the interface. They also boast a touchscreen, which can be simpler to navigate compared to traditional computers.
On the other hand, smartphones are portable and constantly connected, perfect for video calls and messaging. Seniors who are more comfortable with computers can benefit from larger screens and keyboards, allowing them to perform a variety of tasks.
Introducing Technology to Senior Parents
When introducing technology to your senior parent, begin with the device's basic functions. These include making phone calls and sending text messages. Once they're comfortable with these tasks, you can gradually introduce more advanced features like video calls, email, and internet browsing. Remember, patience and support are key to helping seniors feel confident in using technology.
Social Media and Communication Platforms
Popular social media platforms like Facebook can help seniors stay connected with family and friends. They can also share photos and updates, and even join groups that align with their interests. Video calling applications such as Skype or FaceTime will enable seniors to have face-to-face conversations with their loved ones and participate in group calls for family events. WhatsApp is another great tool for messaging, voice calls, and sharing photos or videos.
Privacy and Online Safety
As you introduce your senior parent to the world of technology, take time to address privacy and online safety. Teach them how to create strong passwords, recognize and avoid scams or phishing attempts, and limit the personal information they share online. Take the time to set up privacy settings on their social media accounts. This will ensure they have control over who can access their information.
Get Senior Care and Support From Senior Helpers
In a fast-paced digital world, it's more important than ever for seniors to stay connected with their loved ones. Technology offers numerous opportunities to do so. With the right device, platforms, and support from adult children, senior parents can confidently engage with the world of technology and maintain meaningful connections.
If you live in New Hanover, Pender, Brunswick, or Wilmington and need assistance with caring for your senior loved one, contact Senior Helpers Wilmington. Our team provides professional and compassionate in-home care services tailored to your loved one's needs, ensuring they receive the support they deserve. Reach out today to learn more about our senior care services!