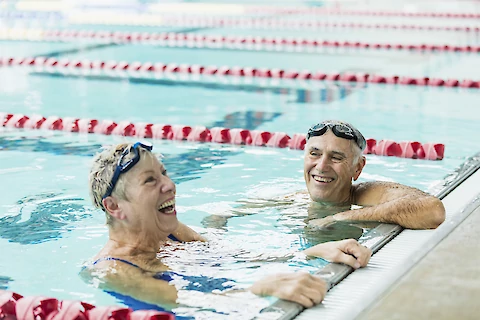 Swimming is part of the exciting physical activities with many health benefits. It is even more beneficial for seniors with Alzheimer's. Water exercises are recommendable because they do not strain the body. Read on to discover the benefits of swimming for seniors needing Alzheimer's care.
Benefits of Swimming for Seniors
Swimming helps improve the heart's health. The simple motions in water trigger cardiovascular activity, making the heart stronger. Seniors will be less likely to develop heart and lung disease when they swim often.
Physical activity is good for the mental health of seniors. Swimming is an activity that makes the mind and body active. It can also be a social activity that prevents a feeling of loneliness or inadequacy. Social isolation can cause a senior to suffer depression or other mental health illnesses.
Regular swimming exercises enhance the stability of seniors. In fact, regular swimming exercises make the muscles stronger. Great stability then means that a senior is less likely to fall.
Water activities also improve sleep. Swimming is a physical activity that requires muscle activity. The movement may leave a senior tired, making it easier to fall asleep. Other seniors feel relaxed after swimming, making it easy to lay down and rest.
Benefits of Swimming for Seniors With Alzheimer's
General physical activity is healthy for seniors with Alzheimer's. A senior needs to keep their body and mind alive throughout the day. They also need to have a daily routine for them to thrive. Swimming as part of the daily routine gives a senior something exciting to look forward to daily.
Swimming is a also social activity that can help seniors with Alzheimer's interact with others. Isolation is detrimental to a senior with Alzheimer's. A swimming program creates space for friendly conversations with people. It also allows a caregiver to monitor a senior's behavior in a different environment.
Swimming helps improve the memory of a senior. Memory loss is a scary experience that may affect close family members. Regular physical activity enhances cognitive abilities. It then may even trigger some childhood memories, which is a good sign.
Swimming helps enhance muscle activity. It is also beneficial to the joints and limbs as it makes them stronger. Self-isolation may lead to the deterioration of joints and limbs. Swimming makes them get out of that unhealthy zone.
Swimming Through Companion Care
You may wonder how you can integrate swimming into your loved ones' routine if you are busy or far away. You can always care for your loved ones regardless of the situation through companion care. Swimming is part of the activities offered through companion care. Professional caregivers will then take care of and improve the quality of life of your loved one.
Professional caregivers at Senior Helpers St. Louis can take your loved one through swimming exercises. Monitoring is essential when seniors with Alzheimer's take part in physical activities.
Conclusion
Alzheimer's may be overwhelming. However, you can always make your loved ones' life interesting. Always look for healthy, positive, and interesting things your loved one can do.
Senior Helpers St. Louis has a community of well-trained caregivers who will take care of your loved ones. Your loved one can start the swimming exercises with their help. You will then notice a significant change in the well-being of your loved one.Contact us today for comprehensive information on senior care at Senior Helpers St. Louis.