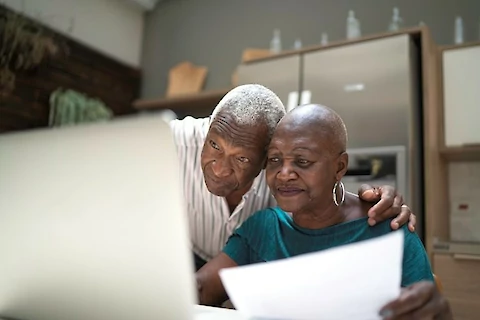 As long as it is possible, seniors should always be actively involved in their finances. Many caregivers or family members may help seniors with their finances, it's important for seniors to stay involved in their finances. Being involved in one's finances helps a senior continue to have control of their lives as they age in place at home.
When seniors are reviewing their finances, seniors need to be aware of both their income and their expenses. Seniors need to be sure that the numbers balance out and that their futures are secure and that their spending habits are sustainable in the long-term.
Identify Income & Sources
Seniors need to understand how much money they have coming in each month and where that money comes from. The average senior citizen getting full social security benefits will receive about $1500 per month. That's hardly enough for most people to live on, but understanding your other incomes such as social security payments from a deceased spouse, retirement funds (401k, IRA [Roth], etc.), or assistance from a family member. Averaging your monthly income and knowing what you have to spend is a key step to ensuring that you are able to balance your income and living expenses long-term.
Calculate Expenses & Costs of Living
Calculate how much money you are spending each month. Be sure to track all of your expenses, not just the big ones. Sure, it's easy to remember major expenses like your mortgage or utilities, but tracking your smaller expenses are important, too. Trips to the grocery store, copay on medications, the amount you pay for doctor's appointments, etc. are all part of your ongoing expenses. Be sure to track those expenses to get an accurate picture of what you are spending each month.
Knowing your bare minimum when it comes to your cost of living is vital to ensuring that you are making wise money choices. Track your investments and your income closely to ensure that you are making the money you need to live each month and year.
Build a Budget
Like any traditional household of working folks, seniors should live by a general budget. This budget can help them determine what they will spend on housing, utilities, food, etc. throughout their retirement years. Obviously, things come up from time-to-time, but understanding what money seniors have to live on can help them make smart budgeting choices.
Check-in and Seek Help
If you have a caregiver that helps with your finances (or buys things for you at the store), be sure to set up a regular meeting time (weekly/monthly) when you sit down and talk to that person. Exchange numbers and make sure that all the income, expenses, and other numbers balance out. Additionally, Meeting with a financial advisor can provide seniors with a good idea of how they are doing financially. Having a financial advisor review your investments, interest rates, and returns. A financial advisor can help you make adjustments to your investment strategy if needed.
Be Flexible
If you realize that you are not getting the return on the money that you expect, you can make active changes. Invest in different stocks or come up with a different investment approach. If you have extra money to invest, choosing from the shorter-term options might give you flexibility in your retirement savings. For example, CDs, bonds, treasury notes, savings accounts, can offer lower return rates 0.50% to 3.00% is common, but you can renew your investment until you need to spend the money. Short-term investments go from 6 months up to 5 years.
Seniors living in Acton, Chelmsford, Littleton, and beyond can control their finances just like any other person. Having a great team of a financial advisor, investment help, and a caregiver/family member on your side to help you with your investments is a bonus. Be sure that these people have your best interests at heart, and you will be financially secure well into the future.
For more information on having a caregiver that can help provide you with great, consistent care please contact us for further assistance.