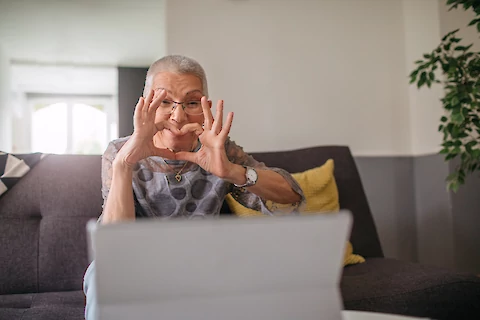 How to Stay in Touch With Seniors in Your Life
With social distancing guidelines and the fear of spreading COVID-19 to loved ones, it can feel harder than ever to stay in touch with some of the most important people in our lives. Talking over the phone just doesn't feel the same, and the timing for your next in-person visit may be uncertain. As difficult as these circumstances are, don't let them stop you from showing the older loved ones that you care. Here are some unique ways to stay in touch with seniors in your life:
Share your favorite book
Gifting someone your favorite story can be a great way to show you're thinking of them. It also allows them brand-new insight into the things that make you smile, laugh, and think!
Reading is a wonderful tool for passing the time and keeping your mind sharp. If you take the time to annotate a book before gifting it, you can even allow the reader to feel like they are experiencing the story alongside you.
Make your own puzzles
Help them fight off boredom with a personalized touch. You can use online tools to remix classic puzzles with clues that feature your family or friendship's history. Create clever crossword clues or the perfect word search list, print it, mail it, and quickly brighten up an afternoon.
Or, for an even bigger challenge, pick your favorite picture of the two of you and transform it into a jigsaw puzzle. Provide hours of entertainment that will leave your loved one with amazing memories and a brand-new decoration.
Help them conquer difficult tasks
In stressful times, making large decisions or checking off intimidating to-do list items become even harder. Add value to your phone call check-ins by offering help with hard tasks. Here are some new challenges that you can help the senior in your life navigate:
Voting by mail

Learning new platforms

If your senior has a smartphone or computer and is hoping to keep up with the latest trends, take the time to teach them how to use emerging communication platforms like Zoom or Google Hangouts. There's no better feeling than being in the loop, and any practice calls you host with them will lead to more fun conversations and memories.

Finding the care they need

This period of isolation may have revealed a need for more assistance in their day-to-day life. Help explore the myriad of options for seniors to get affordable and reliable in-home care. Remember that there are many different ways to age, and whether they require companionship, a caregiver, or around-the-clock service, there is a perfect solution out there for them.
New challenges present new ways to connect with each other. We promise that all the effort you put into maintaining and strengthening these relationships will be worth it.
If you or a loved one are seeking premier in-home care in the Westford area, please don't hesitate to contact Senior Helpers of Westford — we would love to hear from you.