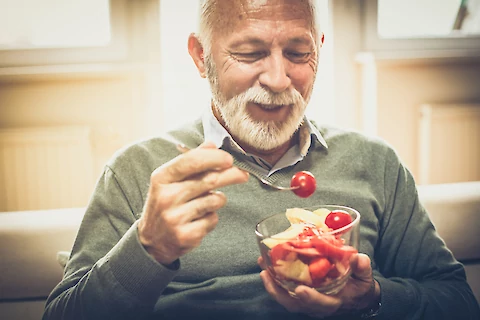 5 Different Healthy Snacks for Seniors in Westford
5 Different Healthy Snacks for Seniors in Westford
Eating three healthy meals a day is a key part of nutrition for seniors, but sometimes you'll still have hunger pangs in between meals. Good nutrition for seniors is key to staying healthy and maintaining a high quality of life. Snacking on junk food can be easy and convenient, but it can also have detrimental effects on the health of seniors, especially those with preexisting health conditions. But snacks can indeed be part of a healthy diet. Here are five different, healthy snacks for seniors that go beyond your standard apple or banana, but are not difficult or time-consuming to prepare.
Papaya with Lime
Fruit can provide excellent nutrition for seniors, and it doesn't have to be boring. If you are a fan of fruit but are sick of bananas and apples, try cutting papaya into several pieces and squirting lime juice over it. This healthy snack is sweet and a bit tangy, providing flavors that differ from your everyday piece of fruit.
Leftover Cooked Vegetables
It might sound like an odd choice for a snack, but vegetables are full of fiber, vitamins, and minerals that the body craves. Fiber will help keep you full until your next meal and also provide you with essential vitamins and minerals. Store leftover vegetables from a previous lunch or dinner in easy-to-access tupperware, and you have a ready-made snack. It's healthy, wholesome, and you don't have to buy anything you didn't already have in the house.
Hard-Boiled Eggs & Nuts
One hard-boiled egg contains about 80 calories and 6 grams of protein. Having one or two hard-boiled eggs for a snack provides a punch of protein. Then add some nuts for healthy fats. About 1/4 to 1/3 of a cup of nuts is recommended for a serving of nuts. Nuts may be moderately high in calories, but they are also high in healthy fats that your body needs. If you are on a low sodium diet, eating unsalted nuts can help you cut out additional sodium. Ensuring proper portion control when eating nuts helps them be beneficial rather than detrimental to your health.
Yogurt & Granola
A single-serving cup of yogurt with 2-3 tablespoons of granola mixed in can make a great (and filling) snack. Choosing low-fat yogurt can help save calories, while Greek yogurt gives you extra protein. Adding more or less granola can also help you control the calories. Topping your yogurt snack with fruit such as berries is another great option for more volume and additional fiber and antioxidants.
Homemade Trail Mix
Homemade trail mix is often recommended over the trail mix brought in a store. Some store brands have unwelcome additions such as added sodium or sugar (particularly in mixes heavy in dried fruits). Making your homemade trail mixes can help you nix the unwanted additives and help you find a healthy, natural snack that can keep you full between meals. Purchasing and mixing ingredients is also often cheaper than buying premade trail mixes.
The combinations used in trail mixes are endless. Start with your favorite nuts and dried fruits. (Look for dried fruit with no additives or added sugars.) Adding other ingredients such as a sprinkle of coconut flakes or granola or pumpkin seeds can create more variety in texture and flavor. Skip the chocolate all together for the healthiest option, or use dark chocolate instead of milk, as it's higher in antioxidants.
These healthy, filling snacks for seniors are sure to satisfy. They provide quality nutrition and great variety. Plus, they're easy to prepare for seniors or their caregivers. Preparing snacks and nutritious meals is just one of the necessary services that at-home caregivers can provide for seniors as they age at home. To learn more, contact us today at Senior Helpers of Westford.