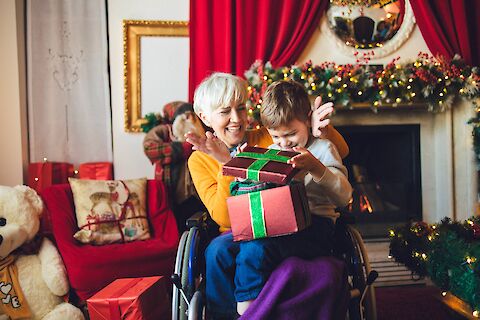 6 Gift Ideas for Temporarily Bedridden or Wheelchair-bound Seniors
Whether it is due to injury, illness, or aging, a temporarily bedridden or wheelchair-bound senior may feel isolated and bored. That is why finding the perfect gift to bring some joy and fun into their lives is so important. Here are six great gift ideas for seniors who are in wheelchairs or are temporarily bedridden.
1. A Tablet or E-reader
Tablets and e-readers provide an excellent way for seniors to stay connected with the world around them without having to leave the comfort of their beds or wheelchairs. With access to books, movies, television shows, magazines, music, games, and more at the touch of a button (or at the swipe of a finger), these devices can help keep boredom at bay while providing hours of entertainment.
2. An Activity Board
An activity board is another great gift idea, as it offers a way to keep seniors mentally stimulated while confined to their beds or wheelchairs. These boards feature various tactile activities like mazes, puzzles, peg games, and shape sorting that help engage the mind and keep seniors entertained for hours on end.
3. A Comfort Pillow
Comfort pillows are designed specifically for those who spend most of their time in bed or in a wheelchair. These specially designed pillows provide extra cushioning and support for heads and backs alike while helping reduce discomfort caused by prolonged periods in one position.
4. A Lap Desk
Lap desks are ideal gifts for seniors who need something comfortable to rest their laptops on while spending time in bed or in their wheelchair. Most of them come with soft padding on top as well as storage compartments underneath that can be used to store pens, pencils, paper clips, books, tablets, and e-readers.
5. Bluetooth Earphones
What better way to stay connected with the world than with a pair of Bluetooth earphones? These wireless devices allow seniors to conveniently listen to music, podcasts, audiobooks, and more without having to deal with annoying cords getting in their way.
6. A Voice-activated Remote Control
Voice-activated remote controls make it easier than ever before for seniors who have limited mobility due to age (or injury) to control just about any electronic device imaginable (TVs, stereos, lights, etc.) with just the sound of their voice. This makes life much easier when you don't have the strength—or the range of motion—to lift your arm high enough to change channels manually.
Thoughtful Gifts Go a Long Way
While being confined to a bed or wheelchair can be difficult at times, there are still plenty of ways family members and friends can show how much they care by getting such seniors thoughtful gifts that will add some cheer and fun into their daily lives.
If you need professional caregiving services in Waikiki, Kahala, Aina Haina, Waimanalo, Manoa, Hawaii Kai, McCully-Moiliili, Kailua, and MCBH Kaneohe Bay, Senior Helpers Honolulu-Kahala-Kailua is here to help. Contact us today for more information about our services or to schedule an appointment with one of our experienced, compassionate caregivers.