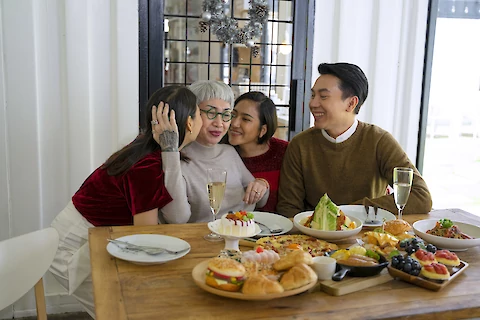 The holidays are a time to celebrate times gone by and reminisce with loved ones about parties and gatherings from previous years. However, for those senior adults struggling with dementia, the holidays can also be confusing and overwhelming. To avoid disorienting senior loved ones with dementia, it might be necessary to make some slight alterations to traditional holiday activities. This will ensure that everyone has a great time and remains comfortable. Here are three tips to modify holiday traditions for seniors with dementia, courtesy of Senior Helpers Peachtree City.
1. Retain Activities That Seniors Enjoy
It's important to hold on to those traditions that signal the season - for the sake of both the family and the senior loved one. Those traditions can be adapted to keep the holiday spirit alive. For example, if your senior loves to bake and used to have large cookie preparation parties, consider organizing a cookie-baking party on a smaller scale. It might also be a good idea to simplify the steps required, including utilizing pre-made dough and preparing the baking sheets in advance.
2. Keep Gatherings Small
Seniors with dementia can get easily agitated by large groups, according to the Mayo Clinic. To make sure seniors don't get upset, try to keep holiday gatherings low-key, with only a handful of people. You could also keep gatherings shorter, planning parties that last just a couple of hours instead of a full day. If a senior shows signs of agitation at the event, you could provide them with a task or activity. Something that will help them to focus on something other than the hustle and bustle of a holiday party.
3. Avoid Loud Music and Lights
The holiday season usually comes with a lot of flashing lights and loud music, from drive-through lights displays to the blinking lights on the family Christmas tree. While these things can be fun and exciting for some, they can be overstimulating for seniors with dementia. There's no reason to get rid of the lights and music entirely. You can keep things festive and fun by scaling down the loud music when your senior loved one is present and opting for lights that don't flash. Also, consider choosing music that might be especially familiar or loved by the seniors to help them feel comfortable.
Senior Helpers Encourages Seniors to Stay Active and Involved
The holiday season can be a time of peace, love, and joy for everyone, even seniors with dementia when you utilize these simple tips and tricks. If you want help creating a schedule for your senior loved one, reach out to Senior Helpers. We assist seniors in and around the Peachtree City, Atlanta, Newman, and Fayetteville areas to live happy, fulfilled lives, through services designed to cater to the needs of every client. Contact us today to learn more about the in-home caregiving services that we offer!