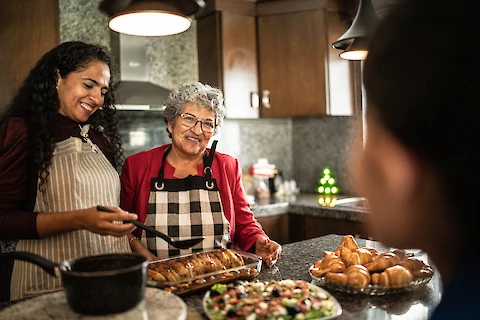 Provide a Calm and Peaceful Environment
Providing a calming environment for your senior parent is key to reducing confusion and anxiety while allowing them to focus and remain calm. You could do several things to create a peaceful environment for your loved one during the holidays. These include, but are not limited to:
Playing Their Favorite Music
Holiday music that you know or love could be pleasant to listen to. Remember to set the volume such that it is soothing rather than upsetting.
Going Easy on the Decorations
Avoid bright, blinking lights and other distracting decorations. You can also avoid adding decorations that will clutter your home or force you to adjust to a comfortable space.
Avoiding Potential Hazards
Replace burning candles with electric candles. Keep candles from burning unattended once you light them. Do not use delicate ornaments or ornaments that can be mistaken for food. Also, secure any trees you have to a wall.
Reduce Your Stress Levels
People living with Alzheimer's are often very perceptive to the emotions and moods of others. If you're nervous and stressed out, they can become impatient too. This can result in problematic behaviors, adding to your stress.
It is only possible to get rid of stress partially. Thus, you need to do your best to prevent unnecessary commitments. This will prevent you from becoming overburdened with tedious holiday obligations.
New Traditions Could Replace Old Traditions
Live in the present and avoid obsessing over the past. Traditions need to change to suit your needs and those of your parents. Simple repetitive tasks can be both safe and enjoyable for them to perform. Do not be alarmed simply because they have been diagnosed with Alzheimer's. Engage them in conversation by bringing up good old memories.
Prepare Your Family and Guests
Explain to younger family members and guests that your parents may not always recall what would be expected of them. If it's their first visit since your elderly loved one was diagnosed, let others know what to expect beforehand. People with Alzheimer's may not remember the names of those around them and their relationships with them, but they can still enjoy the company.
Allow Seniors to Participate in Holiday Preparations
Allowing your elderly loved one to assist in holiday preparations can help them feel included. Focus mainly on their current strengths and have them assist with minor chores they enjoy. This can help them feel valued and keep them engaged while you focus on other tasks.
Here are some suggestions for activities they can do:
Peeling carrots or potatoes
Rolling out cookie dough
Cleaning the table
Cleaning and polishing silverware
Stringing cranberries
Wrapping gifts
If they're having fun, let them keep going even if they could do a better job. You can complete any necessary chores later.
Find the Help Your Loved One Needs to Enjoy the Holidays With Our Peachtree City Caregivers
When caring for an elderly loved one with Alzheimer's over the holidays, remember that the time you spend together is a gift. This holiday season, commit to living in the present by being more mindful and spending more time with your elderly loved one. Our caregivers at Senior Helpers in Georgia can provide extra assistance to your loved one throughout the holidays. 
We offer caregiver services in Peachtree City, Atlanta, Newman, and Fayetteville. Contact us today for a free consultation on how we can help to simplify and make the holiday season more enjoyable for you and your loved ones.