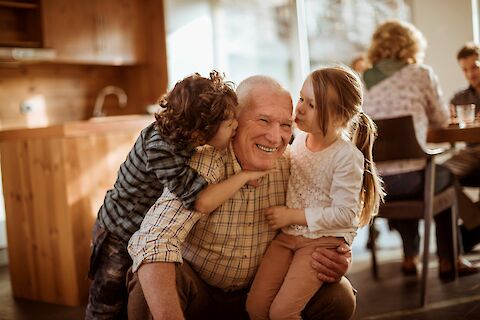 How to Help Senior Parents During Their First Holiday Season with Alzheimer's
The holidays are here, and it's time for families to enjoy time and traditions with loved ones. When a senior family member is living with Alzheimer's disease, however, these moments need adjusting to accommodate their unique needs. Here is a helpful guide for this holiday season.
Holiday Gatherings
A highlight of the season is visiting with friends and family. For the comfort of a senior with Alzheimer's, keep their first holiday gatherings small. Intimate get-togethers tend to be quiet and less chaotic. Consider ending events earlier to accommodate rest and restoration for your elderly loved one. 
Activities
Quality Time Together
With your senior loved one's requirements in mind, plan activities that embrace their need for connections. Sing songs together and have children sing carols. Listen to your elderly family member's favorite holiday music while browsing photo albums. Ask them about what is portrayed in the photos, prompting memories.  
Holiday Baking
Include elderly adults when making Christmas cookies and other treats. Keep the activity calm, with quiet music playing in the background and space to get away if the action becomes overwhelming. Tactile activities like working with dough benefit people with Alzheimer's. It stimulates their senses, brings back memories, and may improve their appetite. 
On the Town
For activities outside the home, plan for times when the senior is at their best. Often, that is earlier in the day. For events, consider going when it first opens. Some venues offer sensory-friendly times; this is a perfect time to take your senior loved one there.
Shopping is also a fun tradition, but keep the day short and go early to avoid crowds. Be flexible and take things easy. Remain watchful of subtle changes in your loved one's demeanor. If they are becoming agitated or confused, it's best to head home.
Decorations
Lights are a beautiful addition to the season's decorations, but twinkling lights create confusion and disorientation. Be mindful that animated displays like bigger-than-life snowmen or talking Santas can frighten a senior with Alzheimer's, especially on their first holiday season. Lastly, avoid displays with loud music. All of this can be overwhelming for your senior loved one.
Helping Your Senior Loved One
Behaviors including confusion, agitation, and frustration characterize Alzheimer's disease. Take care when assisting your beloved family member as these behaviors are common.
Use simple sentences and yes/no questions when talking with them.
Label kitchen and bathroom drawers and cabinets to make finding things more manageable.
Gently remind them of tasks or planned activities, or use an alarm while keeping things simple.
For more information on what to expect with Alzheimer's, check out this National Institute on Aging article. Accept these behaviors as part of the journey with your loved one, and be patient and gentle, with yourself and with your senior family member.
Enjoying the season here in Canton, Cartersville, Rome, Blairsville, and Chatsworth with your senior loved one living with Alzheimer's needs a few adjustments, but it is possible. Senior Helpers provides elderly loved ones premier in-home care; contact us today to learn more.