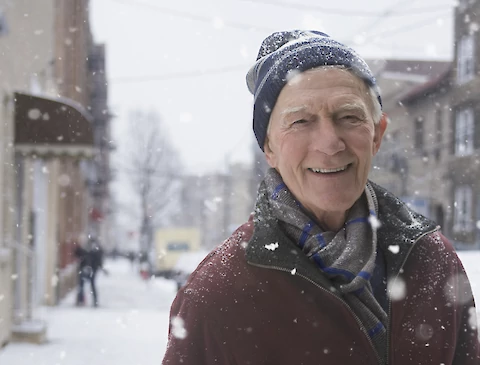 Don't Wear Two Pairs of Socks: 4 Important Winter Attire Tips for Seniors
With winter in full swing, it is important to make sure that seniors are taking proper care of themselves. From choosing the right outerwear to getting proper footwear, there are several steps that should be taken in order to ensure safety and comfort during cold weather. In this blog post courtesy of Senior Helpers Canton-Rome-Cartersville, we will discuss some essential winter attire tips for seniors so they can stay warm and safe throughout the winter season.
Layer Up (But Not on Your Feet!)
One of the most important tips for seniors in the wintertime is to layer up. Wearing multiple layers of clothing helps to trap body heat and keep you warm. However, when it comes to your feet, seniors should avoid wearing two pairs of socks or adding too much bulk, as this can cause unnecessary discomfort and even hinder mobility. 
Instead, seniors should make sure that they are wearing a thick pair of quality socks designed specifically for cold weather conditions. It's also a good idea to add a base layer to any winter wardrobe, perfect for pairing with thicker jeans or thermal shirts. There are many high-quality brands available that should suit any budget.
Invest in Quality Shoes with Good Traction
Seniors should also invest in quality shoes with good traction. Wet and icy surfaces can be very dangerous, especially for senior adults who are more susceptible to slips and falls. Look for winter-appropriate shoes that provide a strong grip on the ground so you can stay safe while walking outdoors or even indoors on wet floors. Don't forget to match cozy socks with these high-quality shoes!
Choose Waterproof Outerwear
When selecting outerwear for the winter, one tip for seniors is to make sure they are choosing something waterproof. This will help to keep them dry and warm even in wet conditions or if they get caught in a sudden rain shower. Look for jackets, coats, and boots that have waterproof technology so they can protect against moisture while still keeping the body comfortable during cold and extreme temperatures.
Keep Mobility in Mind
As you choose appropriate winter attire for senior adults, always keep mobility in mind. Select pieces that are not too bulky and will allow for easy movement. Clothes that are too tight or heavy can be uncomfortable and hinder the ability to move freely, which can put seniors at a higher risk of slips and falls. 
Senior Helpers Provides Compassionate Care for Seniors
With some extra preparation and care, senior adults can enjoy all that the season has to offer while remaining safe, warm, and comfortable. If you or a loved one needs assistance with winterizing your home or picking out the right winter attire, reach out to Senior Helpers Canton-Rome-Cartersville. Our experienced and compassionate caregivers can provide assistance with a variety of tasks so seniors in the Cartersville, Rome, Blairsville, and Chatsworth areas can enjoy their time indoors or outdoors this winter. Contact us today to learn more about our services!