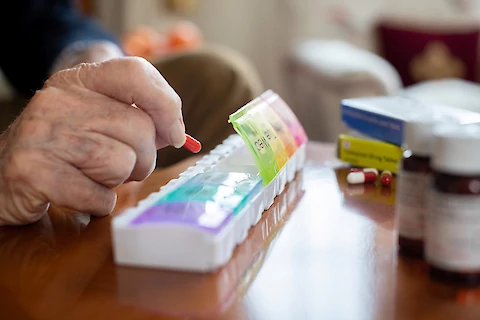 Finding Affordable Medicines and Supplies in 2023 if You're Taking Care of an Elderly Loved One
With sky-high inflation and the many challenges your elderly loved one may be enduring healthwise, it's likely in your best interest to find discounts on prescription drugs in 2023. 
Fortunately, there are myriad of ways to save money. 
Discount Cards 
Discount cards are an excellent way to lower the cost of prescription medication. You will want to have your elderly loved one look at their health insurance information and see which pharmacies are listed.
More often than not, their insurance will at least give them a discount on pharmacies they are connected with. In some cases, they may even be able to access pharmaceuticals for free. 
By the way, discount cards can save your senior parent anywhere from 20-80%, which is certainly significant. Every dollar adds up, after all. 
Some of the Best Discount Cards for Seniors
Your senior parent may want to try the following discount cards: 
GoodRx—This is considered best for all-around value.
WellRx—This offers the widest range of medications.
SingleCare—This is ideal for saving on high-cost pharmaceuticals. 
Blink Health—This is best for online ordering.
Discount Programs 
The following programs offer discounts on prescriptions for seniors:
AARP 
Rite Aid 
The Costco Member Prescription Program 
CVS Pharmacy 
CVS ExtraCare Savings and Reward Program
Honestly, it's a good idea to sign up for each one of these programs: They all result in incredible discounts. 
AARP: 
Provides seniors with an AARP Prescription Discount Card by Optum RX 
Helps seniors and their families save approximately 61% of FDA-approved generic, brand name, and specialty drugs that their insurance (or Medicare Part D Plan) does not cover
Is accepted by 66,000 pharmacies across the United States 
The Rite Aid Rx Savings Program: 
Saves your senior parent 20% on thousands of brand-name and generic prescription pharmaceuticals. 
Provides your elderly loved one with an Rx Savings card, which they can use to access these discounts. 
The Costco Member Prescription Program: 
Allows Costco members who do not have any prescription drug insurance to save up to 80% on medication 
Allows Costco members who have insurance that does not cover the cost of their medication to save up to 80% on pharmaceuticals 
The CVS ExtraCare program offers the following benefits: 
It provides people with ExtraSavings through personalized coupons. These coupons are delivered online via the ExtraCare Coupon Center.
ExtraBucks can be earned by shopping and filling prescriptions. 
Your elderly loved one can earn up to 2% back in ExtraBucks in rewards from their online purchases 
If your senior parent fills 10 prescriptions, they can earn five ExtraBucks through the ExtraCare Pharmacy and Health Rewards Program 
Senior Helpers
Our Florida-based Senior Helpers West offices provide assistance for seniors who are taking medication, transitional care, and in-home care. We are located in Jacksonville, Orange Park, and Green Cove Springs. 
We also offer a comprehensive list of healthcare organizations on our website, many of which offer discounts on pharmaceuticals.  Please contact us for additional information.